Anne of Green Gables
Anne is an orphan with a penchant for daydreaming and distinctive flaming-red hair that catches the eye of everyone she meets. She is overjoyed to be sent to Green Gables, the Cuthberts' farm, which she imagines to be the home she has always dreamt of. When her new family, who had been expecting...
Daughter of the Deep
From Rick Riordan, the bestselling author of PERCY JACKSON, comes a brand-new adventure, inspired by Jules Verne's Twenty Thousand Leagues Under the Sea.Ana Dakkar is a freshman at Harding-Pencroft Academy, a five-year high school that graduates the best marine scientists, naval warriors,...
Harry Potter and the Cursed Child - Parts One and Two
The official playscript of the original West End production of Harry Potter and the Cursed Child.It was always difficult being Harry Potter and it isn't much easier now that he is an overworked employee of the Ministry of Magic, a husband, and father of three school-age children.While Harry...
Fing
The new children's book from No. 1 bestselling author David Walliams – a deliciously daft Tall Story of a child who had everything, but still wanted more. Illustrated by artistic genius, Tony Ross.Meet the Meeks!Myrtle Meek has everything she could possibly want. But everything isn't enough. She...
Mr. Men: Pocket Library
Welcome to the Mr. Men Pocket Library - the perfect first introduction for young children to these fun and zany characters! The slipcase, which is packaged in shrink-wrap, features six board book stories about Mr Happy, Mr Messy, Mr Silly, Mr Bump, Mr Strong and Mr Tickle. The storybooks are made...
To Be A Cat
From the bestselling author of A Boy Called Christmas, The Girl Who Saved Christmas, Father Christmas and Me and The Truth Pixie.*'A clawed masterpiece' - Guardian*Barney Willow's life couldn't get any worse. He's weedy, with sticky-out ears. Horrible Gavin Needle loves tormenting him. And evil...
Rowley Jefferson's Awesome Friendly Spooky Stories
Scare yourself silly with Rowley Jefferson's Awesome Friendly Spooky Stories by Jeff Kinney, the #1 international bestselling author of Diary of a Wimpy Kid!Grab a flashlight, crawl under the covers, and dive into the twisted, unexpectedly hilarious world of Rowley Jefferson's imagination. You'll...
Die verborgene Welt der Ozeane
Die Geheimnisse unter dem Meeresspiegel Das Kinderbuch nimmt junge Forscher*innen ab 7 Jahren mit auf eine Reise durch die Ozeane und zeigt ihnen die faszinierende Vielfalt des Lebensraums Meer. Welche Tiere und Pflanzen leben in dieser fremden Welt und warum sind die Ozeane wichtig fur uns...
Loki
Wry, witty and very funny diary-style story packed with doodles and comic strips about the frustration trickster god Loki feels at having to live trapped in the body of a weedy eleven-year-old boy.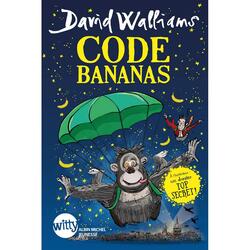 Code Bananas
Londres, 1940. La Grande-Bretagne est en guerre. Alors qu'une menace sourde plane sur sa ville, Eric, orphelin de onze ans, passe le plus clair de son temps au zoo pour se changer les idees. Car la-bas vit le plus extraordinaire des gorilles : Gertrude. Aussi, le jour ou un bombardement menace de...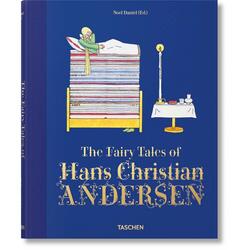 The Fairy Tales of Hans Christian Andersen
The Fairy Tales of Hans Christian Andersen presents the most famous Andersen stories, including classics such as "The Little Mermaid," "The Ugly Duckling," and "The Princess and the Pea," in a highly esteemed 1942 translation by Jean Hersholt. This lovingly designed book contains a sparkling and...
Unstoppable Us - Volume 1: How Humans Took Over the World
We humans aren't strong like lions, we don't swim as well as dolphins, and we definitely don't have wings! So how did we end up ruling the world?The answer to that is one of the strangest tales you'll ever hear. And it's a true story . . .Have you ever wondered how we got here? From hunting...
Spaceboy
Go back to the Space Race with No.1 bestselling author David Walliams for a breathless cinematic adventure full of mystery, action, laughs and surprises – and a secret that could change the course of history…America. The 1960s.Stuck on a remote farm with her awful aunt, twelve-year-old orphan Ruth...
The Magic Finger
Phizzwhizzing new cover look and branding for the World's NUMBER ONE StorytellerEvery Saturday morning the Greg family goes off to shoot animals and birds. But the girl who lives next door hates hunting.Now it's made her so angry she's PUT THE MAGIC FINGER ON THEM ALL. And very strange things have...
The Christmasaurus Cracker
The perfect festive stocking filler for Christmasaurus fans, from the imagination of number-one-bestseller Tom Fletcher!Well, bless my baubles - it's nearly Christmas! And it's time to celebrate with the Christmasaurus Cracker. Get ready for:Not one but TWO adventure-packed Christmas stories:...
The 156-Storey Treehouse
Treehouse is getting festive! With lots of Christmas laughs at every level in The 156-Storey Treehouse, from the worldwide bestselling Treehouse series by Andy Griffiths and Terry Denton.They've added 13 new levels, including a wishing well, a world-record breaking level, a T.V quiz show (hosted by...