Dare to Lead
In her #1 NYT bestsellers, Brene Brown taught us what it means to dare greatly, rise strong and brave the wilderness. Now, based on new research conducted with leaders, change makers and culture shifters, she's showing us how to put those ideas into practice so we can step up and lead. Leadership...
When the Body Says No
Can a person literally die of loneliness? Is there a connection between the ability to express emotions and Alzheimer's disease? Is there such a thing as a 'cancer personality'?Drawing on deep scientific research and Dr Gabor Mate's acclaimed clinical work, When the Body Says No provides the...
Everyday Tarot Mini Deck
Everyday Tarot takes a fresh approach to the cards, giving modern soul-seekers the tools they need to access their inner wisdom and create an inspired life. This charming package, featuring beautifully illustrated cards and a magnetic closure, will appeal to tarot veterans and novices alike!This...
Homo Deus - A Brief History of Tomorrow
**From the author of the number 1 global bestseller Sapiens****The Top Ten Sunday Times Bestseller**Sapiens showed us where we came from. Homo Deus shows us where we're going.War is obsolete. You are more likely to commit suicide than be killed in conflict.Famine is disappearing. You are at more...
Kit - Harry Potter Hogwarts Castle and Sticker Book
With a continual stream of exciting experiences from the Wizarding World, including the successful launch of the Fantastic Beasts and Where to Find Them franchise, Harry Potter fans are as engaged as ever. This mini kit continues a magically successful program for Running Press.Kit includes: 4 x...
Surrounded by Idiots
You are not alone. After a disastrous meeting with a highly successful entrepreneur, who was genuinely convinced he was 'surrounded by idiots', communication expert and bestselling author, Thomas Erikson dedicated himself to understanding how people function and why we often struggle to connect...
12 Rules for Life
Acclaimed clinical psychologist Jordan Peterson has influenced the modern understanding of personality, and now he has become one of the world's most popular public thinkers, with his lectures on topics from the Bible to romantic relationships to mythology drawing tens of millions of viewers. In an...
World of Cyberpunk 2077
Step into the year 2077, a world dotted with dystopian metropoles where violence, oppression, and cyberware implants aren't just common--they're necessary tools to get ahead. Delve into incisive lore to discover how the economic decline of the United States created a crippling dependence on devious...
Little Book of Tarot
Have you ever wondered what fate has in store for you?For hundreds of years, Tarot cards have been used as a tool for divination, and a way to shed light on life's questions and challenges. With an introduction to the 78 cards and their symbols, advice on choosing your deck and tips on how to...
Piers of the Homeless Night
'See my hand up-tipped, learn the secret of my human heart...'Soaring, freewheeling snapshots of life on the road across America, from the Beat writer who inspired a generation.Penguin Modern: fifty new books celebrating the pioneering spirit of the iconic Penguin Modern Classics series, with each...
Castle in the Air
A magical Arabian Nights tale from the captivating creator of fantasy, Diana Wynne Jones. The dazzling sequel to Howls Moving Castle, now a major animated film.
Harry Potter Golden Snitch Sticker Kit
The Harry Potter Golden Snitch Sticker Kit is inspired by Quidditch, a magical game from J.K. Rowling's wonderful world of witchcraft and wizardry. Now fans can celebrate the popular wizarding world game of Quidditch by displaying the Golden Snitch on the included stand and let their imagination...
Five Nights at Freddy's: The Fourth Closet
What really happened to Charlie? It's the question that John can't seem to shake, along with the nightmares of Charlie's seeming death and miraculous reappearance. John just wants to forget the whole terrifying saga of Freddy Fazbear's Pizza, but the past isn't so easily buried.Meanwhile, there's a...
The Ickabog
The Ickabog is coming… A mythical monster, a kingdom in peril, an adventure that will test two children's bravery to the limit. Discover a brilliantly original fairy tale about the power of hope and friendship to triumph against all odds, from one of the world's best storytellers.The kingdom of...
Madness of Crowds
In The Madness of Crowds Douglas Murray investigates the dangers of 'woke' culture and the rise of identity politics. In lively, razor-sharp prose he examines the most controversial issues of our moment: sexuality, gender, technology and race, with interludes on the Marxist foundations of...
Surrounded by Psychopaths
Some people are exceptionally manipulative. They can convince anyone about anything and lure them with their charm. They enjoy controlling others and will do anything to get what they want.Sound familiar?The bad news is that you can't really escape them. But here comes the good news: you can beat...
Wise as Fu*k
Compelling and straight-shooting wisdom for coping with whatever challenges life throws at us from the New York Times bestselling author of Unfu*k Yourself.In Unfu*k Yourself, Gary John Bishop taught millions of readers how to silence the negative, self-sabotaging voice in their head to thrive. In...
Thrawn: Treason (Star Wars)
NEW YORK TIMES BESTSELLER Grand Admiral Thrawn faces the ultimate test of his loyalty to the Empire in this epic Star Wars novel from bestselling author Timothy Zahn. "If I were to serve the Empire, you would command my allegiance." Such was the promise Grand Admiral Thrawn made to Emperor...
The Book of Tea
'Meanwhile, let us have a sip of tea. The afternoon glow is brightening the bamboos, the fountains are bubbling with delight, the soughing of the pines is heard in our kettle.'In this charming book from 1906, Okakura explores Zen, Taoism, Tea Masters and the significance of the Japanese tea...
The Business Book
An innovative and accessible guide to business, management and commerceLearning about business can be daunting, but The Business Book makes it easier than ever by giving you all the big ideas simply explained. Simple explanations and stylish infographics open up the business world to even the...
The World Atlas of Coffee
Coffee has never been better, or more interesting, than it is today. Coffee producers have access to more varieties and techniques than ever before and we, as consumers, can share in that expertise to make sure the coffee we drink is the best we can find. Where coffee comes from, how it was...
Sex Vouchers
Provoke squeals of delight from your amour with this naughty book of vouchers containing saucy gestures, from a seductive massage to a steamy shower session – it's the gift that keeps on giving!
The Black Swan
What have the invention of the wheel, Pompeii, the Wall Street Crash, Harry Potter and the internet got in common? Why are all forecasters con-artists? And, what can Catherine the Great's lovers tell us about probability? This book shows us how to stop trying to predict everything and take...
Kit - Harry Potter Talking Dobby and Collectible Book
Fans and collectors of Harry Potter and J. K. Rowling's Wizarding World will love this one-of-a-kind talking collectible of the free elf, Dobby. Kit includes: * 3-inch figure of Dobby, mounted on a base. He speaks memorable lines from the Harry Potter films at the push of a button. * 48-page book...
The Greatest Secret
Beloved bestselling author Rhonda Byrne launched a global phenomenon with the publication of The Secret in 2006. This life-altering work helped readers understand the untapped powers that reside within. But Rhonda's journey was far from over as something inside her urged her to seek more wisdom....
Pop Manga - How to draw the coolest, cutest characters, animals, mascots, and more
From comics to video games to contemporary fine art, the beautiful, wide-eyed girl look of shoujo manga has infiltrated pop culture and no artist's work today better exemplifies this trend than Camilla D'Errico's. In her first instructional guide, D'Errico reveals her techniques for creating her...
Love Vouchers
Pamper someone you love with this sweet book of vouchers containing romantic gestures, from breakfast in bed to a dreamy weekend away - it's the gift that keeps on giving!
The Psychology Book
All the big ideas, simply explained - an innovative and accessible guide to the study of human nature 'The Psychology Book' clearly explains more than 100 groundbreaking ideas in this fascinating field of science. How does the brain remember faces? What makes us choose one decision over another?...
The General Theory of Employment, Interest and Money
John Maynard Keynes (1883-1946) is perhaps the foremost economic thinker of the twentieth century. On economic theory, he ranks with Adam Smith and Karl Marx; and his impact on how economics was practiced, from the Great Depression to the 1970s, was unmatched.The General Theory of Employment,...
The Sociology Book
All the big ideas, simply explained - an innovative and accessible guide to sociology. Part of the popular Big Ideas series, The Sociology Book introduces you to the subject that tells you all about what society is and what makes it tick. With over 80 ideas from the world's most renowned...
Gustav Klimt
Defining Decadence The legacy of Gustav Klimt A century after his death, Viennese artist Gustav Klimt (1862 1918) still startles with his unabashed eroticism, dazzling surfaces, and artistic experimentation. In this neat, dependable monograph, we gather all of Klimt s major works alongside...
Book Lover's Cup of Tea
The perfect gift for any bookworm in your life, The Book Lover's Cup of Tea includes an innovative book-shaped tea infuser (titled A Tale of Two Ci-Teas) that offers two ways to brew: Dunk the entire book into your cup, or let the cover rest on the rim of your tea cup and hang the tea-filled pages...
Carti de tarot - Universal Tarot Professional Edition
30 full col cards with gold foil impressions & instructions
Key to Happiness
** FROM THE INTERNATIONALLY BESTSELLING AUTHOR ****Previously published as The Little Book of Lykke**"A wonderful guide to happy living. It's based on hard evidence and written with a wonderful sense of fun" Richard Layard, Centre for Economic Performance, LSE and author of HappinessHappiness is...
Bauhaus
The aesthetic of our contemporary environment, including everything from housing developments to furniture and websites, is partly the result of a school of art and design founded in Germany in 1919, the Bauhaus. While in operation for only fourteen years before being shut down by the Nazis in...
365 Days of Art
365 Days of Art is an inspiring journal designed to help readers and budding artists nurture their creativity and explore their feelings through the medium of art. Featuring an activity for every day of the year, from simple tasks like drawing shapes and lines to more considered tutorials such as...
Think Again : The Power of Knowing What You Don't Know
Intelligence is usually seen as the ability to think and learn, but in a rapidly changing world it might matter more that we can rethink and unlearn.Organizational psychologist Adam Grant is an expert on opening other people's minds-and our own. As Wharton's top-rated professor and the bestselling...
Central and Eastern European Art Since 1950
In this path-breaking new history, Maja and Reuben Fowkes introduce outstanding artworks and major figures from across central and eastern Europe to reveal the movements, theories and styles that have shaped artistic practice since 1950. They emphasize the particularly rich and varied art scenes of...
The Premonition
From the global bestselling author of The Big Short, the gripping story of the maverick scientists who hunted down Covid-19'It's a foreboding,' she said. 'A knowing that something is looming around the corner. Like how when the seasons change you can smell Fall in the air right before the leaves...
The Daily Laws
Over the last 22 years, Robert Greene has provided insights into every aspect of being human whether that be getting what you want, understanding others' motivations, mastering your impulses, and recognizing strengths and weaknesses. The Daily Laws distills that wisdom into daily entries.Each entry...
Quidditch Through the Ages
An essential companion to the Harry Potter series, this spectacular new full-colour edition of J.K. Rowling's Quidditch Through the Ages brings together one of the world's best loved storytellers with the creative genius of Emily Gravett. A sumptuous visual feast of a book, the pages are bursting...
Surrounded by Bad Bosses and Lazy Employees
Surrounded by idiots at work? Fed up with a bad boss or lazy colleagues? Thomas Erikson, author of the runaway international bestseller Surrounded by Idiots, will help you handle them and get things done, the right wayWhy is good leadership so rare? Everyone has to manage up to some extent but...
Burn After Writing
Write. Burn. Repeat. Now featuring a brand new pink cover.'This book has made me laugh and cry, filled me with joy, and inspired me.' -TikTok user camrynbanksInstagram, WhatsApp, Snapchat, TikTok, VSCO, YouTube...the world has not only become one giant feed, but also one giant confessional. Burn...
Atomic Habits
The instant New York Times bestseller. Over 1 million copies sold!Tiny Changes, Remarkable ResultsNo matter your goals, Atomic Habits offers a proven framework for improving--every day. James Clear, one of the world's leading experts on habit formation, reveals practical strategies that will teach...
Atlas of the Heart
In her latest book, five-time #1 New York Times bestselling author Dr. Brene Brown writes, "If we want to find the way back to ourselves and one another, we need language and the grounded confidence to both tell our stories and to be stewards of the stories that we hear. This is the framework for...
Five Nights at Freddy's: The Silver Eyes
From the creator of the bestselling horror video game series Five Nights at Freddy's. Ten years after the murders that ripped their town apart, Charlie and her childhood friends reunite at the old pizza place and find that things aren't quite as they used to be...
Habits of a Happy Brain
Happiness isn't just an emotion; it's also the byproduct of chemical reactions in the brain. Habits of a Happy Brain will provide simple ways to increase your brain's production of serotonin, dopamine, oxytocin and endorphin--without the use of medication. Featuring easy-to-understand explanations,...
Five Nights at Freddy's: The Ultimate Guide
Fans won't want to miss this ultimate guide to Five Nights at Freddy's – bursting with theories, lore, and insights from the games, books and more!This all-encompassing guidebook concentrates material from The Freddy Files (Updated Edition) and adds over 100 pages of new content exploring Help...
The Witches' Wealth Spell Book
The Witches' Wealth Spell Book joins Running Press's successful Witches' Spell Book series and is the perfect pocket-sized reference for spell casters of all levels.Including charms and incantations for wealth, success, prosperity, and abundance, this mini book is a charming collection that will...
The Concise 48 Laws Of Power
The perfect gift book for the power hungry (and who doesn't want power?) at an excellent price. The Concise Edition of an international bestseller. At work, in relationships, on the street or on the 6 o'clock news: the 48 Laws apply everywhere. For anyone with an interest in conquest, self-defence,...
Five Nights at Freddy's - Fazbear Frights #5: Bunny Call
When left in darkness, rage festers. Years of frustration with his family culminate in a loathsome vacation for Bob, who plots a sinister prank to frighten his wife and kids. Matt redirects the residual anger over his many failed relationships into a video game, and ends up birthing the horrible...
Fazbear Frights - Blackbird - Volume 6
Five Nights at Freddy's fans won't want to miss this pulse-pounding collection of three novella-length tales that will keep even the bravest FNAF player up at night...Haunted by the past…To avoid confronting an ugly truth, Nole falls prey to a monster that punishes past transgressions. Growing...
The 48 Laws of Power
Amoral, cunning, ruthless, and instructive, this piercing work distills three thousand years of the history of power in to forty-eight well explicated laws. As attention--grabbing in its design as it is in its content, this bold volume outlines the laws of power in their unvarnished essence,...
Everyday Magic
In Everyday Magic, magician Justin Flom will teach you all you need to know to perform 10 amazing and how-did-you-do-that magic tricks. This portable set includes a uniquely designed set of cards and an 88-page mini book with step-by-step instructions and illustrations in a gifty magnetic closure...
The Power of Habit: Why We Do What We Do, and How to Change
In The Power of Habit, award-winning New York Times business reporter Charles Duhigg takes us to the thrilling edge of scientific discoveries that explain why habits exist and how they can be changed. With penetrating intelligence and an ability to distill vast amounts of information into...
Witches' Spell Book
Banish stress, ease tension, and add comfort, joy, and magic to your daily life with The Witches' Spell Book. This enchanting guide is a must-have for spell casters of all levels. Including 60 good spells for love, prosperity, good health, profound wisdom, and much more, this powerful collection is...
Why We Sleep
Sleep is one of the most important aspects of our life, health and longevity and yet it is increasingly neglected in twenty-first-century society, with devastating consequences: every major disease in the developed world - Alzheimer's, cancer, obesity, diabetes - has very strong causal links to...
Palm Reading
Explore the magic and the mystery of palm reading in this fully-illustrated guide to the ancient art.Noted psychic Dennis Fairchild reveals the secrets of the centuries-old art of palmistry, showing how to interpret the lines and formations in the hand. This useful, mini book fits in the palm of...
Pusheen: I Like You More than Pizza
Following our adorable Pusheen Postcard Book and exciting line of licensed customisable fill-in books, I Like You More than Pizza pairs trademark Pusheen humour with a fresh format, offering Pusheen's millions of fans a new way to enjoy the brand.
Immune
You wake up and feel a tickle in your throat. Your head hurts. You're mildly annoyed as you get the kids ready for school and dress for work yourself. Meanwhile, an utterly epic war is being fought, just below your skin. Millions are fighting and dying for you to be able to complain as you drink...
Witches' Love Spell Book
Attain the love you've always dreamed of with this powerful collection of love spells. This enchanting volume includes 60 spells that use practical magic to infuse your life with love and passion, using readily available ingredients such as candles, flowers, and essential oils. Accompanied by...
Heartstopper - Volume 1
Boy meets boy. Boys become friends. Boys fall in love. An LGBTQ+ graphic novel about life, love, and everything that happens in between - for fans of The Art of Being Normal, Holly Bourne and Love, Simon.Charlie and Nick are at the same school, but they've never met ... until one day when they're...
Rick and Morty: Talking Pickle Rick
Rick and Morty -- the highest-rated original series in Adult Swim history -- is a certified pop culture phenomenon with millions of passionate fans, scads of merchandise, and top-selling books. This kit based on the notorious Pickle Rick will be a must-have for fans!
Five Nights at Freddy's: Fazbear Frights #8 - Gumdrop Angel
A string of bad luck you can't seem to shake … for Angel, Hudson and Sergio, it's an all too familiar feeling.Repulsed by her spoiled stepsister's lavish birthday party, Angel exacts a hasty and ill-fated revenge. Hudson's young life is littered with tragedy and broken dreams, but a well-paying...
The Laws of Human Nature
Robert Greene is a master guide for millions of readers, distilling ancient wisdom and philosophy into essential texts for seekers of power, understanding and mastery. Now he turns to the most important subject of all - understanding people's drives and motivations, even when they are unconscious...
Five Nights at Freddy's - Fazbear Frights #11: Prankster
Five Nights at Freddy's fans won't want to miss this pulse-pounding collection of three novella-length tales that will keep even the bravest FNAF player up at night...Readers beware: In this startling world, desperate wishes have an unexpected cost, beautiful trinkets reveal appalling powers, and...
The Beginner's Guide to Wicca
The Beginner's Guide to Wicca is the essential companion for anyone new to the ancient practice of magic. Kirsten Riddle provides a friendly, straightforward introduction to witchcraft, filled with practical tips for incorporating the Wiccan way into every aspect of your daily life. Kirsten dispels...
Noise
From the world-leaders in strategic thinking and the multi-million copy bestselling authors of Thinking Fast and Slow and Nudge, the next big book to change the way you think.Wherever there is human judgment, there is noise.'Noise may be the most important book I've read in more than a decade. A...
The Daily Stoic
Where can you find joy? What's the true measure of success? How should we manage anger? Find meaning? Conquer grief? The answers to these questions and more lie at the heart of Stoic philosophy. The Daily Stoic is a compelling, accessible guide to living a good life, offering daily doses of this...
Divination
Discover the world of divining the future in this enchanted, illustrated introduction to the magical art of fortune telling.Uncover your own inherent magical powers as you explore the mystical realm of divination. Learn to read the signs of what the future holds through introductory chapters and...
The Practical Witch's Spell Book
The Practical Witch's Spell Book is a charming introduction to spells and incantations for love, joy, prosperity, work, money, health and healing, and more. With inviting text and an attractive package, beginners and seasoned witches will find dozens of spells, teachings, and good magic to put them...
BLACKPINK: Queens of K-Pop
This ultimate fan guide celebrates everything you love about BLACKPINK – the sassiest, most stylish girl group who are taking the music world by storm.Go backstage and relive Jisoo, Jennie, Rose and Lisa's incredible experiences, from their days as trainees to the moment they debuted and the...
Aphorisms on Love and Hate
'We must learn to love, learn to be kind, and this from our earliest youth ... Likewise, hatred must be learned and nurtured, if one wishes to become a proficient hater' This volume contains a selection of Nietzsche's brilliant and challenging aphorisms, examining the pleasures of revenge, the...
Minecraft Guide to Redstone - An Official Minecraft Book from Mojang
Learn the art of redstone and become a master engineer with the Minecraft Guide to Redstone, and put theory into practice to construct intricate contraptions in Minecraft.Pick up the basics of the redstone components and their uses, discover how to make working circuits, and create incredibly...
Five Nights at Freddy's - Fazbear Frights #10: Friendly Face
Five Nights at Freddy's fans won't want to miss this pulse-pounding collection of three novella-length tales that will keep even the bravest FNAF player up at night...Act in haste, repent at leisure... After losing his friend in a terrible accident, Edward can't spend his money fast enough on a...
Burn After Writing (Tie-Dye)
The national bestseller.Write. Burn. Repeat. Now with new covers to match whatever mood you're in.This book has made me laugh and cry, filled me with joy, and inspired me.-TikTok user camrynbanksInstagram, WhatsApp, Snapchat, TikTok, VSCO, YouTube...the world has not only become one giant feed, but...
Letters from a Stoic
No man can live a happy life, or even a supportable life, without the study of wisdomLucius Annaeus Seneca (4 BC-AD 65) is one of the most famous Roman philosophers. Instrumental in guiding the Roman Empire under emperor Nero, Seneca influenced him from a young age with his Stoic principles. Later...
Flow - The Psychology of Optimal Experience
Psychologist Mihaly Csikszentmihalyi's famous investigations of "optimal experience" have revealed that what makes an experience genuinely satisfying is a state of consciousness called flow. During flow, people typically experience deep enjoyment, creativity, and a total involvement with life. In...
Meditations
HarperCollins is proud to present its incredible range of best-loved, essential classics.Our life is what our thoughts make itThe extraordinary writings of Marcus Aurelius (AD 121-180), the only Roman emperor to have also been a stoic philosopher, have for centuries been praised for their wisdom,...
Five Nights at Freddy's - Fazbear Frights #3: 1:35 AM
Five Nights at Freddy's fans won't want to miss this pulse-pounding collection of three novella-length tales that will keep even the bravest FNAF player up at night...From twisted toys to gut-wrenching games, this collection of terrifying tales is unsettling enough to mess with even the most...
Rich Dad Poor Dad
Taking to heart the message that the poor and middle class work for money, but the rich have money work for them, the author lays out a financial philosophy based on the principle that income-generating assets always provide healthier bottom-line results.
The Manga Artist's Workbook
Master the basics of the most popular style of cartooning with The Manga Artist's Workbook by Christopher Hart, a bestselling author in the field of art instruction.You'll learn the fundamental proportions of the manga face and figure, how to draw those large sparkling eyes, and how to create...
My Life Had Stood a Loaded Gun
Electrifying poems of isolation, beauty, death and eternity from a reclusive genius and one of America's greatest writers.One of 46 new books in the bestselling Little Black Classics series, to celebrate the first ever Penguin Classic in 1946. Each book gives readers a taste of the Classics' huge...
The Everyday Hero Manifesto
For over twenty-five years, leadership legend and personal mastery trailblazer Robin Sharma has mentored billionaires, business titans, professional sports superstars and entertainment royalty via a revolutionary methodology that has caused them to accomplish rare-air results. Now, in this...
A General Introduction to Psychoanalysis
Sigmund Freud's controversial ideas have penetrated Western culture more deeply than those of any other psychologist. The 'Freudian slip', the 'Oedipus complex', 'childhood sexuality', 'libido', 'narcissism' 'penis envy', the 'castration complex', the 'id', the 'ego' and the 'superego', 'denial',...
BTS
BTS are an international sensation in the world of K-pop! This boyband has sold out arenas, topped charts and gained an army of fans all over the world. Inside this ultimate guide, learn about RM, Jin, Suga, J-Hope, Jimin, V and Jungkook; seven boys who can rap, sing, dance and entertain! Packed...
Socrates' Defence
'I'll stop doing it as soon as I understand what I'm doing.' Somewhere between a historical account and work of philosophy, Socrates' Defence details the final plea of Plato's beloved mentor. Introducing Little Black Classics: 80 books for Penguin's 80th birthday. Little Black Classics celebrate...
The Art of War
′Opportunities multiply as they are seized.′ Written in the 6th century BC, Sun Tzu′s THE ART OF WAR is a Chinese military treatise that is still revered today as the ultimate commentary on war and military strategy. Focussing on the principle that one can outsmart your foe...
Violet Bent Backwards Over the Grass
'Violet Bent Backwards Over the Grass is the title poem of the book and the first poem I wrote of many. Some of which came to me in their entirety, which I dictated and then typed out, and some that I worked laboriously picking apart each word to make the perfect poem. They are eclectic and honest...
The Little Book of Astrology
Are you headstrong and impatient? Can you see both sides of an argument in a balanced way? Do you often find yourself swimming in circles while trying to make a decision? These character traits could actually be written in the stars. The Little Book of Astrology delves into each of the astrological...
Courage is calling
Ryan Holiday's bestselling trilogy--The Obstacle Is the Way, Ego is the Enemy, and Stillness is the Key--captivated professional athletes, CEOs, politicians, and entrepreneurs and helped bring Stoicism to millions of readers. Now, in the first book of an exciting new series on the cardinal virtues...
Lord of the Fleas
When a new bunch of baddies bust up the town, Dog Man is called into action -- and this time he isn't alone.With a cute kitten and a remarkable robot by his side, our heroes must save the day by joining forces with an unlikely ally: Petey, the World's Most Evil Cat.But can the villainous Petey...
The Comfort Book
Fara descriere
Five Nights at Freddy's - Fazbear Frights #2: Fetch
After years of being kicked around, Greg, Alec and Oscar are ready to take control of their lives. Greg decides to put the controversial science he's been studying to the test. Alec launches a master plot to expose his golden sister for the spoiled brat he knows she is. And Oscar, ever the...
Instant Magic Oracle
A fun, magical guide by expert witch Semra Haksever, that will help you to navigate whatever life throws at you. Incorporates spells, rituals, manifestations and more.In these challenging times, the world seems an unpredictable and scary place. However, the answer to all of life's questions, both...
Grime and Punishment
The Supa Buddies bamboozled the baddies, but all's not right in the world.Dog Man has a new problem to pound, and he's going to need his entire pack to help him.Will he go barking up the wrong tree?Dav Pilkey's wildly popular Dog Man series appeals to readers of all ages:Explores universally...
Republic
The ideas of Plato (c429-347BC) have influenced Western philosophers for over two thousand years. Such is his importance that the twentieth-century philosopher A.N. Whitehead described all subsequent developments within the subject as foot-notes to Plato's work.Beyond philosophy, he has exerted a...
Five Nights at Freddy's: The Twisted Ones
The highly anticipated sequel to the bestselling Five Nights at Freddy's: The Silver Eyes.It's been a year since the horrific events at Freddy Fazbear's Pizza, and Charlie is just trying to move on. Even with the excitement of a new school and a fresh start, she's still haunted by nightmares of a...
Concise Art Of Seduction
The companion book to the bestselling Concise 48 Laws of Power, which has now sold over 125,000 copies in the UK. Amoral, ruthless, clever and cunning, this is the essential guide to the art of seduction. Click here for the author's website.
BTS and Me
BTS and Me is the perfect way to record all of your favourite things about your favourite Korean boyband, Bangtan Sonyeondan.Packed full of fun fill-in activities, from quizzes to find out who would be your best friend, planning your ideal concert setlist and designing outfits for the boys to...
The Playbook
It. Is. On. The latest book from bestselling author of THE BRO CODE, Barney Stinson, THE PLAYBOOK is like Niel Strauss's THE GAME for Bros...
Heartstopper - Volume 2
Boy meets boy. Boys become friends. Boys fall in love. An LGBTQ+ graphic novel about life, love, and everything that happens in between: this is the second volume of HEARTSTOPPER, for fans of The Art of Being Normal, Holly Bourne and Love, Simon. *Includes exclusive Tara/Darcy story!*Nick and...
Signs & Symbols
Decode the secrets and uncover the origins and meanings of over 2,000 signs and symbols, from ancient hieroglyphs to modern-day logos.Why is a heart pierced by an arrow a classic symbol of love? What are the ancient roots of fertility symbols? Why are scales a symbol of justice?Delve into the...
Breath
A New York Times BestsellerA Washington Post Notable Nonfiction Book of 2020Named a Best Book of 2020 by NPR "A fascinating scientific, cultural, spiritual and evolutionary history of the way humans breathe—and how we've all been doing it wrong for a long, long time." —Elizabeth Gilbert, author of...
Hold on to Your Kids
Children take their lead from their friends: being 'cool' matters more than anything else. Shaping values, identity and codes of behaviour, peer groups are often far more influential than parents.But this situation is far from natural, and it can be dangerous – it undermines family cohesion,...
Invisible Women
'HELL YES. This is one of those books that has the potential to change things - a monumental piece of research' Caitlin MoranImagine a world where...· Your phone is too big for your hand· Your doctor prescribes a drug that is wrong for your body· In a car accident you are 47% more likely to be...
Heartstopper - Volume 4
Boy meets boy. Boys become friends. Boys fall in love. An LGBTQ+ graphic novel about life, love, and everything that happens in between - for fans of The Art of Being Normal, Holly Bourne and Love, Simon.Charlie didn't think Nick could ever like him back, but now they're officially boyfriends....
Classical Mythology A to Z
An encyclopedic A-to-Z guide, this beautifully designed and illustrated volume offers hundreds of rich and fascinating definitions of 700 major and minor characters, creatures, and places of classical mythology. The perfect companion to the 75th anniversary illustrated edition of Edith Hamilton's...
The Power of Now
To make the journey into The Power of Now we will need to leave our analytical mind and its false created self, the ego, behind. Although the journey is challenging, Eckhart Tolle offers simple language and a question and answer format to guide us. Surrender to the present moment, where problems do...
Blackpink
A comprehensive guide to the K-pop girl group who are taking the music world by storm. The sassiest, most stylish girls around - BLACKPINK!'Blackpink in Your Area!' The K-pop girl group are taking their catchphrase literally; they are currently in the midst of a sell-out stadium world tour. Jisoo,...
Come as You Are
Researchers have spent years trying to develop a "pink pill" for women to function like Viagra does for men. So where is it? This book makes crystal clear, that pill will never exist - but as a result of the research that's gone into it, scientists have learned more about how women's sexuality...
Art Of Seduction
Which sort of seducer could you be: Siren; Rake; Cold Coquette; Star; Comedian; Charismatic; or Saint? Whether power, money or lust is the motive? This work is a self-help manual.
Minecraft Guide to Survival
The world of Minecraft is waiting to be explored. But danger lurks around every corner and survival can prove difficult for even the bravest adventurer.The official Minecraft Guide to Survival will help you to stay alive. Learn how to find resources, craft equipment and protect yourself from...
The Obstacle is the Way
We give up too easily. With a simple change of attitude, what seem like insurmountable obstacles become once-in-a-lifetime opportunities. Ryan Holiday, who dropped out of college at nineteen to serve as an apprentice to bestselling 'modern Machiavelli' Robert Greene and is now a media consultant...
Numbers Don't Lie
'There is no author whose books I look forward to more than Vaclav Smil' Bill Gates'Smil's title says it all: to understand the world, you need to follow the trendlines, not the headlines. This is a compelling, fascinating, and most important, realistic portrait of the world and where it's going'...
The Art of Harry Potter
Keep the captivating graphic art of the Harry Potter films close at hand with this miniature art book. From the classic pages of the Daily Prophet to the zany creations of Weasleys' Wizards Wheezes, to the numerous textbooks, posters, and documents created for Hogwarts School of Witchcraft and...
Blackpink: Pretty isn't Everything
Filled with incredible color photos and fun facts, this unofficial fan guide tells the full story of the global phenomenon Blackpink.The girls of Blackpink are more than just pretty faces. Since they debuted in 2016, the group has broken record after record, played shows across the globe, and built...
Chakras
Discover the essential power of the seven chakras, including their colors, sounds, and key rituals, in this beautifully illustrated mini guidebook.Get to know your seven energy centers -- muladhara, svadisthana, mapura, anahata, vishuddha, ajna, and sahasrara --in this enchanted introduction to the...
How Management Works
Discover everything you need to know to improve your management skills, and understand key management and business theories with this unique graphic guide.Combining clear, jargon-free language and bold, eye-catching graphics, How Management Works is a definitive and user-friendly guide to all...
Five Nights at Freddy's: Fazbear Frights #7: The Breaking Wheel
Five Nights at Freddy's fans won't want to miss this pulse-pounding collection of three novella-length tales that will keep even the bravest FNAF player up at night...Some things must be learned the hard way … Reed sees an opportunity to teach the school bully not to mess with him, but ends up...
Harry Potter: Spell Deck and Interactive Book of Magic
From Patronus-casting to the cursed Avada Kedavra, this giftable illustrated spell deck and book set is your guide to the magic of the world of Harry Potter.Set includes:40 full-color printed cards featuring the names of spells, charms, curses, and jinxes from the Wizarding World, with their...
In the Realm of Hungry Ghosts
Featured on Russell Brand's podcast Under the Skin Dr Gabor Mate is one of the world's most revered thinkers on the psychology of addiction. His radical findings – based on decades of work with patients challenged by catastrophic drug addiction and mental illness – are reframing how we view all...
Korean-English Bilingual Visual Dictionary
With over 6,500 fully illustrated words and phrases in Korean and English, along with a free bilingual audio app, using and learning Korean has never been easier.Perfect for tourists, business travellers and students, DK's Korean English Bilingual Visual Dictionary is your essential companion when...
Home Body
From the Number One SundayTimes bestselling author of milk and honey and the sun and her flowers comes her greatly anticipated third collection of poetry.i dive into the well of my bodyand end up in another worldeverything i needalready exists in methere's no needto look anywhere else - home
BTS
BTS are a global phenomenon. This fully revised and updated biography covers their journey from their debut to their latest album, Map of the Soul: 7 (released 21 February 2020), and looks at how this group of boys from South Korea have taken over the world.These seven incredibly talented, handsome...
Burn After Writing (Dots)
Write. Burn. Repeat. Now with new covers to match whatever mood you're in.This book has made me laugh and cry, filled me with joy, and inspired me.-TikTok user camrynbanksInstagram, WhatsApp, Snapchat, TikTok, VSCO, YouTube...the world has not only become one giant feed, but also one giant...
Burn After Writing (Spiders)
The national bestseller.Write. Burn. Repeat. Now with new covers to match whatever mood you're in.This book has made me laugh and cry, filled me with joy, and inspired me.-TikTok user camrynbanksInstagram, WhatsApp, Snapchat, TikTok, VSCO, YouTube...the world has not only become one giant feed, but...
Factfulness
The #1 Wall Street Journal and New York Times bestseller longlisted for the Financial Times/McKinsey Business Book of the Year: 'A hopeful book about the potential for human progress when we work off facts rather than our inherent biases' BARACK OBAMA
Attached
'A groundbreaking book that redefines what it means to be in a relationship.' - John Gray, PhD., bestselling author of Men Are from Mars, Women Are from VenusAn insightful look at the science behind love, Attached offers readers a road map for building stronger, more fulfilling connections.Is there...
Minecraft Blockopedia
Bursting with facts on over 600 unique blocks!Minecraft continues to grow every year and Minecraft Blockopedia: Updated Edition catalogues every single block in the game. Over 200 new blocks have been added in this completely revised edition, including those from the most recent Caves & Cliffs...
Elon Musk: How the Billionaire CEO of Spacex and Tesla is Shaping Our Future
South African born Elon Musk is the renowned entrepreneur and innovator behind PayPal, SpaceX, Tesla, and SolarCity. Musk wants to save our planet; he wants to send citizens into space, to form a colony on Mars; he wants to make money while doing these things; and he wants us all to know about it....
Minecraft - The Ultimate Explorer's Gift Box
Dive into Minecraft with the official Minecraft Gift Box, packed with tips and tricks for Minecraft players.Get ready to embark on a journey across the Overworld. Packed with exploration content, this is a must have for all Minecraft fans. Set out in search of elusive mobs in the search and find...
The Severed Moon
The Grishaverse will be coming to Netflix soon with Shadow and Bone, an original series!A bewitching journal filled with prompts and quotations from the imagination of worldwide #1 bestselling author Leigh Bardugo."We learn to wring magic from the ordinary."Find the magic in your life with this...
Home Body
A revised hardcover edition of the Number One Sunday Times bestseller home body by rupi kaur, author of the Number One Sunday Times bestsellers milk and honey and the sun and her flowers. Rupi's long-awaited hardcover edition debuts exclusive poems and is beautifully clothbound and foil...
The 33 Strategies Of War
Talks about the strategies of war that can help us gain mastery in the world. Spanning world civilisations, and synthesising dozens of political, philosophical, and religious texts, this guide to the subtle social game of everyday life is illustrated with examples of the genius and folly of almost...
Zero to One
WHAT VALUABLE COMPANY IS NOBODY BUILDING? The next Bill Gates will not build an operating system. The next Larry Page or Sergey Brin won't make a search engine. If you are copying these guys, you aren't learning from them. It's easier to copy a model than to make something new:...
Romeo and Juliet
HarperCollins is proud to present its new range of best-loved, essential classics. 'Did my heart love till now? Forswear it, sight! For I ne'er saw true beauty till this night.' Arguably the greatest love story ever told, Shakespeare's Romeo and Juliet continues to touch modern audiences with its...
The Monk Who Sold His Ferrari
An internationally bestselling fable about a spiritual journey, littered with powerful life lessons that teach us how to abandon consumerism in order to embrace destiny, live life to the full and discover joy.• This inspiring tale is based on the author's own search for life's true purpose,...
The Concise Laws of Human Nature
The concise edition of the 2019 WINNER OF THE INTERNATIONAL BUSINESS BOOK AWARDFrom the million-copy bestselling author of The 48 Laws of PowerRobert Greene is a master guide for millions of readers, distilling ancient wisdom and philosophy into essential texts for seekers of power, understanding...
I have more souls than one
'But no, she's abstract, is a birdOf sound in the air of air soaring,And her soul sings unencumberedBecause the song's what makes her sing.'Dramatic, lyrical and ranging over four distinct personae, these poems by one of Portugal's greatest poets trace a mind shaken by intense suffering and a...
The Kitchen Witch's Spell Book
Turn your kitchen into a pagan power center using herbs, crystals, and spells for health, wealth, love and happiness.Are you seeking more contentment in your daily life? Could you use more money to improve home and hearth? Are you looking for ways to spice up your love life? This gorgeously...
The Science of Spice
Break new ground with this spice book like no other, from TV personality, food scientist and bestselling author, Dr Stuart Farrimond. Taking the periodic table of spices as a starting point, explore the science behind the art of making incredible spice blends and how the flavour compounds within...
Peppa Pig: Peppa's Family Little Library
Inside you'll find four small chunky board books featuring Peppa, George, Mummy Pig and Daddy Pig, which also make a fun jigsaw puzzle!
Harry Potter and the Chamber of Secrets
Prepare to be dazzled by this new edition of J.K. Rowling's Harry Potter and the Chamber of Secrets, designed and illustrated by MinaLima. With over 150 full-colour illustrations and eight exclusive, interactive paper-engineered elements, readers can travel via the Floo Network, encounter the...
Five Nights at Freddy's - Fazbear Frights #9: The Puppet Carver
Five Nights at Freddy's fans won't want to miss this pulse-pounding collection of three novella-length tales that will keep even the bravest FNAF player up at night...Consumed by failure... Desperate to keep his kiddie pizzeria from bankruptcy, Jack lets his animatronics tech pitch him a new...
Minecraft Bite-Size Builds
Learn how to design, build and customise 20 mini-projects in Minecraft, from firefighter planes and deep-sea submarines to hidden bunkers and mini arcade games.There's even a superhero flying school! With detailed instructions, block hacks and build tips, this book will encourage you to polish old...
Harry Potter and the Philosopher's Stone
Harry Potter has never even heard of Hogwarts when the letters start dropping on the doormat at number four, Privet Drive. Addressed in green ink on yellowish parchment with a purple seal, they are swiftly confiscated by his grisly aunt and uncle. Then, on Harry's eleventh birthday, a great...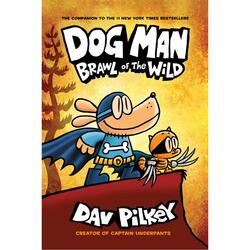 Brawl of the Wild
The heroic hound is sent to the pound for a crime he didn't commit!While his pals work to prove his innocence, Dog Man struggles to find his place among dogs and people.Being a part of both worlds, will he ever fully fit in with one??Dav Pilkey's wildly popular Dog Man series appeals to readers of...
Bluey: Little Library
oin Bluey, Bingo, Chilli and Bandit in Bluey's Little Library!Follow along with your favourite Bluey characters on a brand new-adventure. Perfect for younger readers, each chunky book will keep little hands occupied at home, or on the move.And, once you're done reading (and re-reading), the four...
Dog Man 8: Fetch-22
The eighth book in the Dog Man graphic novel series now available in paperback. Petey the Cat is out of jail, and he has a brand-new lease on life.While Petey's reevaluated what matters most, Li'l Petey is struggling to find the good in the world.Can Petey and Dog Man stop fighting like cats and...
The Dragon Republic
The searing follow-up to 2018's most celebrated fantasy debut - THE POPPY WAR. Rin is on the run ... Haunted by the terrible choices she had to make to save her people, Rin's only reason for living is to take revenge on the traitorous Empress who sold her homeland to its enemies.Forced to ally with...
For Whom the Ball Rolls
Petey learns what it means to do good in the seventh Dog Man book from worldwide bestselling author and artist Dav Pilkey.The Supa Buddies have been working hard to help Dog Man overcome his bad habits. But when his obsessions turn to fears, Dog Man finds himself the target of an all-new...
Howl's Moving Castle
A new look for one of Diana Wynne Jones' funniest and most popular novels.In the land of Ingary, where seven league boots and cloaks of invisibility do exist, Sophie Hatter catches the unwelcome attention of the Witch of the Waste and is put under a spell.Deciding she has nothing more to lose, she...
Harry Potter - A Magical Year
A Magical Year takes readers on an unforgettable journey through the seasons at Hogwarts. Jim Kay's incredible illustrations, paired with much loved quotations from J.K. Rowling's Harry Potter novels, bring to life all of the magic, beauty and wonder of the wizarding world.This is an irresistible...
Gangsta Granny
Another hilarious and moving novel from David Walliams, number one bestseller and fastest growing children's author in the country.A story of prejudice and acceptance, funny lists and silly words, this new book has all the hallmarks of David's previous bestsellers.Our hero Ben is bored beyond...
Little Learning Library
Includes collage art and large, simple text. This title is suitable for preschoolers.
Sherlock Holmes and the Christmas Demon
The new Sherlock Holmes novel from the New York Times bestselling author of The Age of Odin.It is 1890, and in the days before Christmas Sherlock Holmes and Dr John Watson are visited at Baker Street by a new client. Eve Allerthorpe - eldest daughter of a grand but somewhat eccentric...
Little Prince
Having crash-landed in the Sahara desert, a pilot comes across a young boy who introduces himself as the Little Prince and tells him the story of how he grew up on a tiny asteroid before travelling across the galaxies and coming to Earth. His encounters and discoveries, seen through childlike,...
Peter Rabbit Tales: Little Library
Join Peter Rabbit as he learns about colours, numbers and animals in this adorable little library.In these four chunky board books you will learn early concepts with Peter Rabbit and all his friends. With beautiful, bright, contemporary artwork, this board book collection is perfect for even the...
Harry Potter and the Cursed Child - Parts One and Two
The official playscript of the original West End production of Harry Potter and the Cursed Child.It was always difficult being Harry Potter and it isn't much easier now that he is an overworked employee of the Ministry of Magic, a husband, and father of three school-age children.While Harry...
The Macmillan Fairy Tales Collection
A beautiful hardback treasury, containing over fifty fairy tales from around the world, introduced by award-winning author Michael Morpurgo. The perfect gift for fairy tale lovers of all ages.This glorious collection contains much-loved favourites from Hans Christian Andersen and the Brothers...
Mr. Men: Pocket Library
Welcome to the Mr. Men Pocket Library - the perfect first introduction for young children to these fun and zany characters! The slipcase, which is packaged in shrink-wrap, features six board book stories about Mr Happy, Mr Messy, Mr Silly, Mr Bump, Mr Strong and Mr Tickle. The storybooks are made...
Harry Potter and the Half-Blood Prince
VWhen Dumbledore arrives at Privet Drive one summer night to collect Harry Potter, his wand hand is blackened and shrivelled, but he does not reveal why. Secrets and suspicion are spreading through the wizarding world, and Hogwarts itself is not safe. Harry is convinced that Malfoy bears the Dark...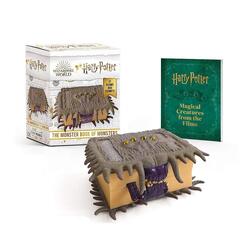 Harry Potter: The Monster Book of Monsters
Twenty years since its debut, the Wizarding World keeps fans around the world spellbound with exciting new experiences. This mini kit -- the first with sound AND movement -- builds on the range of Running Press's bestselling licensed series.
Harry Potter and the Goblet of Fire
The Triwizard Tournament is to be held at Hogwarts. Only wizards who are over seventeen are allowed to enter - but that doesn't stop Harry dreaming that he will win the competition. Then at Hallowe'en, when the Goblet of Fire makes its selection, Harry is amazed to find his name is one of those...
Harry Potter Box Set - The Complete Collection
A beautiful boxed set containing all seven Harry Potter novels in paperback. These new editions of the classic and internationally bestselling, multi-award-winning series feature instantly pick-up-able new jackets by Jonny Duddle, with huge child appeal, to bring Harry Potter to the next generation...
Harry Potter and the Order of the Phoenix
Dark times have come to Hogwarts. After the Dementors' attack on his cousin Dudley, Harry Potter knows that Voldemort will stop at nothing to find him. There are many who deny the Dark Lord's return, but Harry is not alone: a secret order gathers at Grimmauld Place to fight against the Dark forces....
Harry Potter and the Chamber of Secrets
Harry Potter's summer has included the worst birthday ever, doomy warnings from a house-elf called Dobby, and rescue from the Dursleys by his friend Ron Weasley in a magical flying car! Back at Hogwarts School of Witchcraft and Wizardry for his second year, Harry hears strange whispers echo through...
Charlie and the Chocolate Factory
Greetings to you, the lucky finder of this Gold Ticket from Mr Willy Wonka! I shake you warmly by the hand! Tremendous things are in store for you!A boy who only gets to eat cabbage soup for breakfast, lunch and dinner finds a Golden Ticket that will take him into Willy Wonka's magical chocolate...
The 52-Storey Treehouse
Winner of the ABIA Book of the Year AwardAndy and Terry's incredible, ever-expanding treehouse has thirteen new storeys, including a watermelon-smashing level, a wave machine, a life-size snakes and ladders game (with real ladders and real snakes!), a rocket-powered carrot launcher, a Ninja Snail...
Roald Dahl's Little Library
ONE enormous crocodile, TWO little mice, THREE mischievous monkeys . . .With a little help from Roald Dahl and some of his most famous characters your can learn all about:Whizzpopping numbersSplendiferous coloursGlorumptious oppositesPhizz-whizzing creaturesA delightful treat for curious little...
Rowley Jefferson's Awesome Friendly Spooky Stories
Scare yourself silly with Rowley Jefferson's Awesome Friendly Spooky Stories by Jeff Kinney, the #1 international bestselling author of Diary of a Wimpy Kid!Grab a flashlight, crawl under the covers, and dive into the twisted, unexpectedly hilarious world of Rowley Jefferson's imagination. You'll...
Little Prince
On one level this work is the story of an airman's discovery of a small boy from another planet in the desert and his stories of intergalactic travel, and on the other hand it is a thought-provoking allegory of the human condition.
The Golden Age - Volume 2
Following the epic cliffhanger in volume one, The Golden Age Book 2 concludes this exciting, medieval graphic novel duology.Tilda just wanted to reclaim her throne and now she has disappeared.and the only clue is the mysterious treasure of Ohman.As the rightful heir of late King Ronan, Tilda wants...
Matilda
*A very special edition, celebrating everyone's favourite young genius! Includes tips and activities for creating your very own story, and incredible pull-out illustrations of Matilda all grown-up*'A true genius - Roald Dahl is my hero' - David WalliamsThese books gave Matilda a hopeful and...
Supercharge Your Brain
With a new chapter on Covid and the Brain, this is the definitive guide to keeping your brain healthy for a long and lucid life, by one of the world's leading scientists in the field of brain health and ageing.The brain is our most vital and complex organ. It controls and coordinates our actions,...
Power Hour
The Power Hour message is simple: taking an hour for yourselves and your aspirations isn't selfish or impossible, it's essential. This book will show you how to harness the first hour of your day in order to achieve your goals - whether those are starting a business, getting fit or pursuing your...
The Little Book of Whisky
However you like your whisky, this book is a masterful blend of history, terminology, tips and memorable quips. Topped up with dozens of recipes to suit any whisky lover's palate – from classic cocktails to Scotch-imbued fudge and smoky bourbon glaze – this neat little miscellany will deepen your...
The Green Wiccan Spell Book
This is the must-have grimoire for every modern-day witch who wishes to discover a world of boundless possibilities, with spells for attracting more love, money and luck into your life, cleansing your home, healing a rift in a friendship, and much more. This lavishly illustrated compendium, written...
100 Years of Fashion
100 Years of Fashion documents in pictures the most exciting and diverse period in fashion: from 1900 to today, covering high society, uniforms, sportswear, streetwear and couture. It will appeal to everyone with an interest in fashion as well as students.The last hundred or so years bore witness...
The Power of Regret
"The world needs this book." —Brene Brown, Ph.D., New York Times bestselling author of Dare to Lead and Atlas of the HeartAs featured in The Wall Street Journal and The Washington PostNamed a Must Read of 2022 by Forbes, Newsweek, and GoodreadsFrom the #1 New York Times–bestselling author of When...
21 Lessons for the 21st Century
**THE NUMBER ONE BESTSELLER**The future is here. Learn to live in it.In twenty-one bite-sized lessons, Yuval Noah Harari explores what it means to be human in an age of bewilderment.How can we protect ourselves from nuclear war, ecological cataclysms and technological disruptions? What can we do...
Trans
'An intelligent, thorough rejoinder to an idea that has swept across much of the liberal world seemingly overnight...Open conversation about such fraught issues is the only realistic path forward.' New York TimesTHE SUNDAY TIMES BESTSELLER and a Times, Spectator and Observer Book of the Year...
The God Equation
#1 NEW YORK TIMES BEST SELLER • The epic story of the greatest quest in all of science—the holy grail of physics that would explain the creation of the universe—from renowned theoretical physicist and author of The Future of the Mind and The Future of HumanityWhen Newton discovered the law of...
Burn After Writing
The national bestseller. Write. Burn. Repeat. Now with new covers to match whatever mood you're in."This book has made me laugh and cry, filled me with joy, and inspired me."-TikTok user camrynbanksInstagram, WhatsApp, Snapchat, TikTok, VSCO, YouTube...the world has not only become one giant feed,...
Think and Grow Rich
The greatest motivational book of all time! Napoleon Hill's thirteen step programme will set you on the path to wealth and success. Think and Grow Rich reveals the money-making secrets of hundreds of America's most affluent people. By thinking like them, you can become like them. This powerful 1937...
The World's Worst Pets
BE WARNED! AWFUL ANIMALS LURK INSIDE…Millions of readers have loved The World's Worst Children, The World's Worst Teachers and The World's Worst Parents - now they will delight in this ludicrously laugh-out-loud collection of pets, brought to you by the phenomenal Number One bestselling author...
World of Art - Raphael
An authoritative introduction to one of the most influential painters in the history of art, written by the pre-eminent authority on the subject and informed by the latest research.More versatile and less idiosyncratic than Michelangelo, more prolific and accessible than his mentor Leonardo da...
Bittersweet
#1 NEW YORK TIMES BESTSELLER • Sadness is a superpower. In her new masterpiece, the author of the bestselling phenomenon Quiet reveals the power of a bittersweet outlook on life, and why we've been so blind to its value. "Bittersweet grabs you by the heart and doesn't let go."—BRENE BROWN, author...
The Last Kids on Earth: Quint and Dirk's Hero Quest
A Netflix Original series!June Del Toro went on a wild flight in a super-rad solo episode; now get ready for the dynamic duo: it's Quint and Dirk! Picking up after the events of The Last Kids on Earth and the Doomsday Race, adventure abounds as the best buddies encounter new monsters and embark on...
Beyond the Mountains
The thrilling sequel to the best-selling middle-grade debut of Autumn 2020Imogen and Marie return through the door in the tree to a whole new Yaroslav.Miro is king, but hates it. Anneshka is no longer Queen. . . and hates it.When Anneshka hears a prophecy that she will rule the Greatest Kingdom,...
The Beautiful Traditional Colors of Japan
A visual color encyclopedia presenting more than 270 traditional Japanese colors arranged in order of the four seasons.The beauty of Japan is deeply rooted in the natural colors of the changing seasons. This book contains more than 270 of the most representative traditional Japanese colors, from...
The Catalyst
From the author of New York Times bestsellers Contagious and Invisible Influence comes a revolutionary approach to changing anyone's mind.Everyone has something they want to change. Marketers want to change their customers' minds and leaders want to change organisations. Start-ups want to change...
The Art of Yoco
Breathtakingly beautiful boys' love illustrations.yoco is an illustrator who is active mainly in the BL (boys' love) genre and who is particularly known for her exquisite, painterly illustration style. Her dramatic compositions evoke pure scenes of longing, while also fulfilling a slightly...
Brave New World
Available for the first time as a graphic novel, "one of the most prophetic dystopian works of the twentieth century" (Wall Street Journal), Aldous Huxley's revered classic, adapted and illustrated by Fred Fordham, the artist behind the graphic novel adaptation of To Kill A MockingbirdIn Aldous...
The Future of the Professions
This book predicts the decline of today's professions and introduces the people and systems that will replace them. In an internet-enhanced society, according to Richard Susskind and Daniel Susskind, we will neither need nor want doctors, teachers, accountants, architects, the clergy, consultants,...
Anatomy
Grays Anatomy, that classic beloved of medical students for over 100 years, is the fundamental work underlying Anatomy. But this is Grays with a difference with all the fine engravings of the original, but accompanied by fresher, more accessible text that explains in lay terms exactly how the hip...
The Infinite Game
From the New York Times bestselling author of Start With Why and Leaders Eat Last, a bold framework for leadership in today's ever-changing world. How do we win a game that has no end? Finite games, like football or chess, have known players, fixed rules and a clear endpoint. The winners and losers...
Sapiens - A Brief History of Humankind
THE SUNDAY TIMES BESTSELLER Planet Earth is 4.5 billion years old. In just a fraction of that time, one species among countless others has conquered it. Us. We are the most advanced and most destructive animals ever to have lived. What makes us brilliant? What makes us deadly? What makes us...
Why I Am so Clever
'Why do I know a few more things? Why am I so clever altogether?'Self-celebrating and self-mocking autobiographical writings from Ecce Homo, the last work iconoclastic German philosopher Nietzsche wrote before his descent into madness.One of 46 new books in the bestselling Little Black Classics...
Naughty Truth Or Dare
Looking to add a little spark to a date night in or a get-together with your closest friends? Crack open Naughty Truth or Dare for 104 juicy prompts to get the party started! No longer must you rack your brain for the perfect "truth" or "dare"—simply close your eyes, draw a card, and let the fun...
School of life
We spend years in school learning facts and figures but the one thing we're never taught is how to live a fulfilled life. That's why we need The School of Life - a real organisation founded ten years ago by writer and philosopher Alain de Botton. The School of Life has one simple aim: to equip...
A History of Magic, Witchcraft and the Occult
Discover the beguiling history of witchcraft, magic, and superstition through the centuries in this stunningly illustrated title.A History of Magic, Witchcraft and the Occult charts the extraordinary narrative of one of the most interesting and often controversial subjects in the world, covering...
Talking to Strangers
The routine traffic stop that ends in tragedy. The spy who spends years undetected at the highest levels of the Pentagon. The false conviction of Amanda Knox. Why do we so often get other people wrong? Why is it so hard to detect a lie, read a face or judge a stranger's motives?Using stories of...
The Greatest Secret
The Greatest Secret, the long-awaited major work by Rhonda Byrne, lays out the next quantum leap in a journey that will take the reader beyond the material world and into the spiritual realm, where all possibilities exist. The book reflects Rhonda's own journey, and shares the most direct way out...
Humans
'F*cking brilliant' Sarah Knight'Very funny' Mark WatsonAN EXHILARATING JOURNEY THROUGH THE MOST CREATIVE AND CATASTROPHIC F*CK-UPS OF HUMAN HISTORYIn the seventy thousand years that modern human beings have walked this earth, we've come a long way. Art, science, culture, trade - on the...
Humankind
If there is one belief that has united the left and the right, psychologists and philosophers, ancient thinkers and modern ones, it is the tacit assumption that humans are bad. It's a notion that drives newspaper headlines and guides the laws that shape our lives. From Machiavelli to Hobbes, Freud...
Buyology
How much do we know about why we buy? What truly influences our decisions in today's message-cluttered world? In Buyology, Martin Lindstrom presents the astonishing findings from his groundbreaking three-year, seven-million-dollar neuromarketing study--a cutting-edge experiment that peered inside...
BTS
A fantastic and fun-filled quiz book on all things BTS, the breakthrough K-pop band with a global army of fans.Packed with puzzles, cool quizzes and great games, dedicated followers can enjoy testing their knowledge of the band to find out if they are true super-fans. Activities include fab fill-in...
Slow Homecoming
Provocative, romantic, and restlessly exploratory, Peter Handke is one of the great writers of our time. Slow Homecoming, originally published in the late 1970s, is central to his achievement and to the powerful influence he has exercised on other writers, chief among them W.G. Sebald. A novel of...
How to Stay Sane in an Age of Division
It feels like the world is falling apart. So how do we keep hold of our optimism? How do we nurture the parts of ourselves that hope, trust and believe in something better? And how can we stay sane in this world of division?In this beautifully written and illuminating polemic, Booker Prize nominee...
Stranger Planet
The sequel to the #1 New York Times bestselling phenomenon Strange Planet, featuring more hilarious and poignant adventures from the fascinating inhabitants of Nathan W. Pyle's colourful world.In this eagerly awaited sequel, Nathan takes us back to his charming and instantly recognisable planet...
A Terrible Beauty Is Born
'But I, being poor, have only my dreams; / I have spread my dreams under your feet...'By turns joyful and despairing, some of the twentieth century's greatest verse on fleeting youth, fervent hopes and futile sacrifice.
Rowley Jefferson's Awesome Friendly Adventure
You've never seen the Wimpy Kid World like this before - an entirely new, awesome, friendly, truly fantastic fantasy quest from #1 international bestselling author Jeff Kinney!From the imagination of Wimpy Kid's Rowley Jefferson comes an adventure of epic proportions! Join Roland and his best...
Brancusi
Le present ouvrage retrace le parcours exceptionnel de Brancusi qui, par un long travail de sublimation de la forme, s'est attache a saisir l'essence des etres et des choses. Il met en valeur la singularite d'un artiste reconnu comme le pere de la sculpture moderne par nombre de createurs venus de...
Milk and Honey
A hardcover gift edition of Milk and Honey, the #1 New York Times bestselling poetry and prose collection by Rupi Kaur, which has sold over 3 million copies worldwide. Milk and Honey is a collection of poetry and prose about survival. About the experience of violence, abuse, love, loss, and...
BTS, K-Pop Power!
BTS is the K-pop band that has taken the world by storm! And with a brand-new album out, Map of the Soul: Persona, this is the ultimate guide for young fans - the ARMY. BTS' K-pop power is harnessed with fabulous photography, meet each band member, see their meteoric rise to fame, their style, and...
Blink
In his landmark bestseller The Tipping Point, Malcolm Gladwell redefined how we understand the world around us. Now, in Blink, he revolutionizes the way we understand the world within. Blink is a book about how we think without thinking, about choices that seem to be made in an instant-in the blink...
Light that Failed
Light that Failed - Stephen Holmes
Harry Potter: Hogwarts School of Witchcraft and Wizardry
Explore Hogwarts School of Witchcraft and Wizardry with this collectible tiny art book featuring facts and art from the Harry Potter films.Go behind the scenes of the beloved Harry Potter films and discover all things Hogwarts! Meet students and teachers, explore the castle and grounds, and learn...
Kit jucarie si carte - Tiny Planetarium - See the stars!
Acum poti aduce misterul cerului nocturn la birou sau acasa cu acest planetariu uimitor. Acest kit include: Un proiector de stele in miniatura cu 12 constelatii; O mini-carte ilustrata cu 48 de pagini.
The Life-Changing Magic of Not Giving a F**k
'Genius' Cosmopolitan'The best book I have read recently . . . Absolutely blinding. Read it. Do it.' Daily MailThe bestselling book everyone is talking about - our favourite anti-guru Sarah Knight reveals the surprising art of caring less and getting more.Are you stressed out, overbooked and...
BTS: Icons of K-Pop
BTS is the breakthrough K-pop band. For the first time, this unofficial biography tells the story of the Korean boy band with a global army of fans, who have propelled their heroes to the top of the charts all over the world.Seven good-looking boys - Jin, Suga, J-Hope, RM, Jimin, V and Jungkook -...
Dali
The most complete study of Salvador Dali's painted works yet. After years of research, Robert Descharnes and Gilles Neret located previously inaccessible works that epitomize Dali's depictions of the subconscious and its strange workings. Complete with updated captions, this opulent edition...
K-Pop: The Ultimate Fan Book
K-Pop: The Ultimate Fan Book is your essential guide to all the bands, songs and styles behind the most diverse and exciting genre in pop music today.2018 was a breakout year for K-Pop (Korean Pop) on the global stage, with boy-band BTS reaching number 1 in the UK album chart and selling out live...
Paris: Through a Fashion Eye
Paris is an illustrated guide to one of the world's most-loved fashion cities by one of the world's most-successful fashion illustrators. In the second of her series of books on classic fashion destinations, Megan Hess takes you on a super stylish adventure through the French capital, showing you...
Theft by Finding: Diaries - Volume One
'He's like an American Alan Bennett, in that his own fastidiousness becomes the joke, as per the taxi encounter, or his diary entry about waiting interminably in a coffee-bar queue' Guardian review of An Evening with David SedarisThe point is to find out who you are and to be true to that person....
Moment of Lift
'We need this message more than ever' Malala YousafzaiThe right to:Spend your own money. Go to school. Earn an income. Access contraceptives. Work outside the home. Walk outside the home. Choose whom to marry. Get a loan. Start a business. Own property. Divorce a husband. See a doctor. Drive a...
The $100 Startup
Change your job to change your lifeYou no longer need to work nine-to-five in a big company to pay the mortgage, send your kids to school and afford that yearly holiday. You can quit the rat race and start up on your own - and you don't need an MBA or a huge investment to do it.The $100 Startup is...
Japan Supernatural
Japan Supernatural presents wildly imaginative works by Japanese artists past and present, from historical master Katsushika Hokusai to contemporary superstar Takashi MurakamiJapan Supernatural takes readers on a journey of discovery of the astonishing array of yokai culture and yurei (ghosts) –...
The Subtle Art of Not Giving A F*ck
#1 International Bestseller and #1 New York Times BestsellerOver 2 million copies soldIn this generation-defining self-help guide, a superstar blogger cuts through the crap to show us how to stop trying to be "positive" all the time so that we can truly become better, happier people.For decades,...
The Many Lives Of Pusheen the Cat
A delightful new collection of comics from Pusheen in all of her adorable forms - from the classic gray tabby you know and love, to her unicorn, dragon, alien, mermaid, dinosaur, and even dog alter egos - Pusheen always lives life to the fullest!We all know Pusheen, the pleasantly plump cat who has...
The Little Book of Witchcraft
Are you in need of a little magic to entice love into your life?Maybe someone you know could benefit from a good-luck spell?Or perhaps you want to feel more in control of your destiny?The Little Book of Witchcraft uncovers the mysteries of this ancient art and shows you how to tap into the positive...
Create Dangerously
'To create today is to create dangerously'Camus argues passionately that the artist has a responsibility to challenge, provoke and speak up for those who cannot in this powerful speech, accompanied here by two others.Penguin Modern: fifty new books celebrating the pioneering spirit of the iconic...
Letters to a Young Poet
'What matters is to live everything. Live the questions for now.'A hugely influential collection for writers and artists of all kinds, Rilke's profound and lyrical letters to a young friend advise on writing, love, sex, suffering and the nature of advice itself.One of 46 new books in the...
Love That Moves the Sun and Other Stars
'Happiness beyond all words! A life of peace and love, entire and whole!'A collection of cantos from Paradiso, the most original and experimental part of the Divina Commedia.One of 46 new books in the bestselling Little Black Classics series, to celebrate the first ever Penguin Classic in 1946....
Hamlet
′Though this be madness, yet there is method in′t.′Considered one of Shakespeare′s most rich and enduring plays, the depiction of its hero Hamlet as he vows to avenge the murder of his father by his brother Claudius is both powerful and complex. As Hamlet tries to find out the truth of the...
The Bro Code
THE BRO CODE provides men with all the rules they need to know in order to become a "bro" and behave properly among other bros. THE BRO CODE has never been published before. Few know of its existence, and the code, until now, has been verbally communicated between those in the 'bro'. Containing...
Elements Magnet Set
Display and play with the building blocks of life with The Elements Magnet Set ! Based on the iconic images from Theodore Gray's bestselling book The Elements , this beautiful magnet set is the perfect way to add a little atomic flair at work and home. Spell out a fun message or just display and...
Five Nights at Freddy's - Fazbear Frights #1: Into the Pit
Five Nights at Freddy's fans won't want to miss this pulse-pounding collection of three novella-length tales that will keep even the bravest player up at night...What do you wish for most? It's a question that Oswald, Sarah and Millie think they know the answer to. Oswald wishes his summer wasn't...
Mastery
Around the globe, people are facing the same problem - that we are born as individuals but are forced to conform to the rules of society if we want to succeed. To see our uniqueness expressed in our achievements, we must first learn the rules - and then how to change them completely.Charles Darwin...
Heartstopper - Volume 3
'Absolutely delightful. Sweet, romantic, kind. Beautifully paced. I loved this book.' RAINBOW ROWELL, author of Carry OnCharlie didn't think Nick could ever like him back, but now they're officially boyfriends. Nick's even found the courage to come out to his mum.But coming out isn't just something...
Why Men Love Bitches
Describes why men are attracted to strong women and offers advice on ways a woman can relate to men and gain a man's love and respect.
Mindset
An authoritative, practical guide on how to develop the mindset necessary for success, both personal and professional. - Revised and updated with new material
Discover Your True North, Expanded and Updated Edition
The Leadership Classic, Discover Your True North, expanded for today's leaders Discover Your True North is the best-selling leadership classic that enables you to become an authentic leader by discovering your True North.
The Little Book of Chocolate
Whether you like your chocolate to be milk or dark, in a bar or in a cake, there is one thing that's certain: we are all hooked on this tantalizing treat. Indulge all your chocolate cravings in this tempting collection of recipes, fascinating facts and memorable musings on the most sumptuous of...
The Science of Cooking
Which vegetables should you eat raw? How do you poach the perfect egg? And should you keep your eggs in the fridge? Food scientist Dr Stuart Farrimond answers all these questions - and many more like them - equipping you with the scientific know-how to take your cooking to new levels.In The Science...
Dog Man: A Tale of Two Kitties
Howl with laughter with the THIRD book in the hilarious full-colour, illustrated series,Dog Man, from the creator of Captain Underpants!He was the best of dogs...He was the worst of dogs...It was the age of invention...It was the season of surprise...It was the eve of supa sadness...It was the dawn...
Burn After Writing (Hearts)
Write. Burn. Repeat. Now with new covers to match whatever mood you're in.This book has made me laugh and cry, filled me with joy, and inspired me.Instagram, WhatsApp, Snapchat, TikTok, VSCO, YouTube...the world has not only become one giant feed, but also one giant confessional. Burn After Writing...
Guns, Germs And Steel
This work abandons the conventional distinctions between history and science. Diamond focuses on what ancient people were endowed with in the way of land, animals and plants, and on the confrontations between less and more advanced people to see how this led to today's inequalities.
Harry Potter and the Philosopher's Stone
An irresistible new edition of Harry Potter and the Philosopher's Stone created with ultra-talented designers MinaLima, the design magicians behind the gorgeous visual graphic style of the Harry Potter and Fantastic Beasts films. J.K. Rowling's complete and unabridged text is accompanied by...
Peppa Pig: Fairy Tale Little Library
'The Peppa Pig Fairy Tale Little Library' is a charming collection of mini fairy tale classics with the characters from the award-winning Nick Jr. television series, 'Peppa Pig', presented in a beautiful slipcase box. Join Princess Peppa Pig and Prince George in their wonderful fairy tale castle up...
Peppa Pig: Bedtime Little Library
Peppa and George are getting ready for bed with this sweet little library of bedtime books. From bathtime to storytime, bedtime to dream time, this little library will help your little piggies settle off to sleep too.With chunky pages for the littlest hands and a simple jigsaw picture on the back...
The Solar System
Discover the wonders of our Solar System with this fold-out book and 200-piece jigsaw. The sturdy box contains a jigsaw showing the planets, their moons and the spacecraft that have been sent to explore them, plus an 8 page double-sided fold-out illustration of our solar system packed with...
Fing
The new children's book from No. 1 bestselling author David Walliams – a deliciously daft Tall Story of a child who had everything, but still wanted more. Illustrated by artistic genius, Tony Ross.Meet the Meeks!Myrtle Meek has everything she could possibly want. But everything isn't enough. She...
Beneath the Moon
Powerful and universal retellings of seventy-eight divine stories, legends, and myths from around the world, each accompanied by a gorgeous illustration from acclaimed artist Yoshi Yoshitani.Many of the lessons we learn are shared stories passed among cultures and generations. In this riveting...
To Be A Cat
From the bestselling author of A Boy Called Christmas, The Girl Who Saved Christmas, Father Christmas and Me and The Truth Pixie.*'A clawed masterpiece' - Guardian*Barney Willow's life couldn't get any worse. He's weedy, with sticky-out ears. Horrible Gavin Needle loves tormenting him. And evil...
Diary of an Awesome Friendly Kid
Get ready for a whole new look into Jeff Kinney's Diary of a Wimpy Kid! Introducing the newest Wimpy Kid author--Rowley Jefferson! Rowley's best friend Greg Heffley has been chronicling his middle-school years in thirteen Diary of a Wimpy Kid journals . . . and counting. But it's finally time for...
The Boy Who Made Everyone Laugh
A laugh-out-loud, against-all-odds triumph of a story: the funniest debut of 2021Billy Plimpton is an eleven-year-old boy with a big dream.He wants to be a stand-up comedian when he grows up: delivering pinpoint punch-lines and having audiences hang on his every hilarious word.A tough career for...
Five Go Adventuring Again - Volume 2
The Famous Five told as a graphic novel for the first time ever. Ideal for anyone who loves Tintin, Asterix or Dogman.All the fun, danger and excitement of the original books, in a fast-paced format for fans old and new. Brilliantly retold, designed and illustrated by a talented father-and-son team...
Famous Five Graphic Novel: Five on a Treasure Island
The Famous Five told as a graphic novel for the first time ever. Ideal for anyone who loves Tintin, Asterix or Dogman.All the fun, danger and excitement of the original books, in a fast-paced format for fans old and new. Brilliantly retold, designed and illustrated by a talented father-and-son team...
Die verborgene Welt der Ozeane
Die Geheimnisse unter dem Meeresspiegel Das Kinderbuch nimmt junge Forscher*innen ab 7 Jahren mit auf eine Reise durch die Ozeane und zeigt ihnen die faszinierende Vielfalt des Lebensraums Meer. Welche Tiere und Pflanzen leben in dieser fremden Welt und warum sind die Ozeane wichtig fur uns...
Kit cartonase cu vraji - Practical Witch's Spell Deck
Practical Witch's Spell Deck este o colectie fermecatoare de vraji si incantatii pentru dragoste, bucurie, prosperitate, munca, bani, sanatate, vindecare si multe altele, atat pentru incepatori, cat si pentru cei experimentati. Acest kit include: 100 de carti complet ilustrate; Carte de 48 de...
Tales from Shakespeare
These tales are the perfect introduction to Shakespeare's greatest plays. Renowned writers and essayists of the 18th century, siblings Charles and Mary Lamb vividly bring to life the power of Hamlet and Othello, the fun of As You Like It and the drama of Pericles. Their accessible writing never...
The Flowers of Evil
Judicially condemned in 1857 as offensive to public morality, The Flowers of Evil is now regarded as the most influential volume of poetry published in the nineteenth century. Torn between intense sensuality and profound spiritual yearning, racked by debt and disease, Baudelaire transformed his own...
Bauhaus: A Graphic Novel
The main character of this extraordinary graphic novel is not a person but an idea-the school of Bauhaus, which arose in the wake of World War I, and emerged as the fundamental reference point for virtually every avant-garde artistic movement that followed. Visually arresting illustrations and...
Street Photography
Now available in paperback, this extensive collection of the world's best street photography captures daily life in every corner of the globe. From pre-war gelatin silver prints to 21st-century digital images, from documentary to abstract, from New York's Central Park to a mountain city in...
Modigliani
Amedeo Modigliani experimented with sculpture and drawing, but is primarily known for his paintings of nudes and portraits characterized by elongated figures, faces, and necks. He began painting in his youth in Italy before moving to Paris in 1906, during the height of the avant-garde movement....
The Renaissance Cities
The idea of "renaissance," or rebirth, arose in Italy as a way of reviving the art, science, and scholarship of the Classical era. It was also powered by a quest to document artistic "reality" according to newly discovered scientific and mathematical principles. By the late 15th century, Italy had...
Cezanne: Masters of Art
Widely regarded as the bridging link between late nineteenth-century Impressionism and Cubism, Cezanne's work is characterized by his intense study of his subjects. Overflowing with impeccably reproduced images, this book offers full-page spreads of masterpieces as well as highlights of smaller...
Goya
This generously illustrated volume on the work of Francisco de Goya makes the world's greatest art accessible to readers of every level of appreciation. Widely regarded as the first modern artist, Goya was both a court painter to the Spanish Crown and a commentator on the tumultuous events of his...
Claude Monet
Capturing fleeting natural impressions played a central role in the art of Claude Monet. He deeply engaged with the landscape and light of different places, from the metropolis of Paris to the Seine villages of Argenteuil and Giverny. This lavishly illustrated new paperback edition explores the...
Leonardo
This generously illustrated volume on the work of Leonardo da Vinci makes the world's greatest art accessible to readers of every level of appreciation. Although less than twenty of Leonardo da Vinci's paintings are known to exist today, some of them-the Mona Lisa, The Last Supper, along with his...
Code Bananas
Londres, 1940. La Grande-Bretagne est en guerre. Alors qu'une menace sourde plane sur sa ville, Eric, orphelin de onze ans, passe le plus clair de son temps au zoo pour se changer les idees. Car la-bas vit le plus extraordinaire des gorilles : Gertrude. Aussi, le jour ou un bombardement menace de...
Empire of Ants
This sweeping portrait of the world's uncontested six-legged conquerors will open your eyes to the secret societies thriving right beneath your feet—and shift your perspective on humanity.Ants number in the ten quadrillions, and they have been here since the Jurassic era. Inside an anthill, you'll...
The Hound of the Baskervilles
When Sir Charles Baskerville dies in mysterious circumstances, the world's greatest detective is called in to investigate. Sherlock Holmes must use all his powers of deduction if he is to solve the blood-curdling mystery of the terrifying Hound of the Baskervilles.
Garden Physic
Garden Physic is a radical poetic movement through plant life. With her singular line, she journeys readers through an investigation of how we articulate our ecological surrounds in language through botanical histories.With a structure that emulates the style of classic manuscripts, Legris's book...
How to Photograph People
Whatever type of device you use to take pictures - whether a phone or a pro-spec digital camera - the most compelling subject is always other human beings. Portraiture is one of the most popular genres in photography, but it can also be one of the most daunting to undertake, especially when you're...
My Body
Fara descriere
The Girl From The Sea
Fifteen-year-old Morgan has a secret: She can't wait to escape the perfect little island where she lives. She's desperate to finish high school and escape her sad divorced mom, her volatile little brother, and worst of all, her great group of friends...who don't understand Morgan at all. Because...
Belarus
A comprehensive and revelatory history of modern Belarus—from independence to Lukashenka's contested 2020 re-election"Andrew Wilson has done all students of European politics a great service by making the history of Belarus comprehensible, and by showing how the future of Belarus might be different...
The Fairy Tales of Hans Christian Andersen
The Fairy Tales of Hans Christian Andersen presents the most famous Andersen stories, including classics such as "The Little Mermaid," "The Ugly Duckling," and "The Princess and the Pea," in a highly esteemed 1942 translation by Jean Hersholt. This lovingly designed book contains a sparkling and...
Star Wars: Thrawn Ascendancy
NEW YORK TIMES BESTSELLER - Discover Thrawn's origins within the Chiss Ascendancy in the first book in an epic new Star Wars trilogy from bestselling author Timothy Zahn.Beyond the edge of the galaxy lies the Unknown Regions: chaotic, uncharted, and near impassable, with hidden secrets and dangers...
Peter 2.0
The incredible and inspiring book behind the primetime Channel 4 documentary, Peter: The Human Cyborg'Peter's story is one of the most extraordinary you will ever hear. Remarkable. I urge people to read it' Stephen Fry'With candour and bravery, Peter tells how he explored new frontiers of science...
Caketopia
How to Decorate the Most Stylish Cakes in the WorldDon't just bake a cake; bake a cake that will make heads turn and jaws drop! In this incredible collection of tutorials, cake queen and Instagram star Sheri Wilson shows you how to re-create her signature, out-of this-world cake designs at home...
Starting a Business For Dummies
Launch your new business with confidence and skill using the latest guidance from the UK's most trusted small business guruStarting a business is one of those courageous and audacious decisions that many of us dream about. If you're ready to take the leap and turn your great idea into action, or...
Upper Crust: Homemade Bread the French Way
An introduction to the French art of baking bread--including ingredient selection, starter cultivation, and bread-making techniques--with more than 100 recipesThe quintessential staple of French cuisine is the humble baguette, but the country's bread-baking tradition--along with variations...
All We Can Save
NATIONAL BESTSELLER - Provocative and illuminating essays from women at the forefront of the climate movement who are harnessing truth, courage, and solutions to lead humanity forward."A powerful read that fills one with, dare I say . . . hope?"--The New York TimesNAMED ONE OF THE BEST BOOKS OF THE...
Arabiyya
A collection of 100+ bright, bold recipes influenced by the vibrant flavors and convivial culture of the Arab world, filled with moving personal essays on food, family, and identity and mixed with a pinch of California cool, from chef and activist Reem Assil"This is what a cookbook should be:...
The Vegan Cake Bible
The Vegan Cake Bible teaches you everything you need to know about making incredible plant-based cakes.In this easy-to-follow book, author, pastry chef and vegan cake queen Sara Kidd shares her vast knowledge of the science behind vegan baking and how to make foolproof creations every time.With...
Uniquely Human
Winner of the Autism Society of America's Dr Temple Grandin AwardAutism is a different way of being human. By understanding autistic behaviours as strategies to cope with a world that feels chaotic and overwhelming, Barry Prizant seeks to enhance abilities, to teach new skills, help individuals...
Slovenia
Lonely Planet's Slovenia is your passport to the most relevant, up-to-date advice on what to see and skip, and what hidden discoveries await you. Discover buzzy Ljubljana, dip a toe in the electric-blue water of Lake Bled, be stunned by natural beauty; all with your trusted travel companion. Get to...
Crux
The most important part of a leader's job is to set in motion the actions today that will build a better future tomorrow - in other words, strategy. But how do leaders become strategists?In this ground-breaking book, Richard Rumelt, the world's leading authority on strategy, shows how finding the...
Richer, Wiser, Happier
'A profound, eloquent, and much-needed call for a reassessment of how we build our portfolios and live our lives' - Stig BrodersenBillionaire investors. If we think of them, it's with a mixture of awe and suspicion. Clearly, they possess a kind of genius - the proverbial Midas Touch. But are the...
Cultural Amnesia
A lifetime in the making, Cultural Amnesia is one of the crowning achievements in Clive James's illustrious career. Containing over a hundred essays, this is a definitive guide to twentieth century culture, cataloguing and exploring the careers of many of its greatest thinkers, humanists,...
Talk Like Ted
With a new introduction from the author, discover the secrets to a perfect TED Talk and learn how to deliver an exceptional presentation with Carmine Gallo's Talk Like TED.'Talk Like TED is a smart, practical book that will teach you how to give a kick-butt presentation. But Gallo goes deeper than...
Grayson's Art Club: The Exhibition - Volume II
During the pandemic, Grayson Perry helped the nation find comfort and company through art during the hit TV series Grayson's Art Club by Swan Films for Channel 4.Each week Grayson hosted the show from his studio with his wife, Philippa (and often their cat, Kevin). Using video chat, Grayson spoke...
Little History of Art
A thrilling journey through 100,000 years of art, from the origins of mark making to art's pivotal role in culture todayWhy did our ancestors make art? What did art mean to them and what does their art mean for us today? Why is art even important at all?Charlotte Mullins brings art to life by...
Let's Do It: The Birth of Pop
The must-read music book of the year: Bob Stanley's prequel to Yeah Yeah Yeah, Let's Do It is the only book that brings together all genres to tell the definitive story of the birth of Pop, from 1900 to the mid-fifties. Let's Do It is the definitive history of the birth of Pop, from 1900 to the...
I Dream of Dinner (So You Don't Have To)
150 fast and flexible recipes to use what you have and make what you want, from New York Times contributor Ali Slagle"Ali has pulled off the near-impossible with a collection of delicious, doable, recipes that don't just tell you how to make a specific dish, but how to expand your way of...
The Quarantine Atlas
In April 2020, Bloomberg CityLab journalists Laura Bliss and Jessica Martin asked readers to submit homemade maps of their lives during the coronavirus pandemic. The response was illuminating and inspiring. The 400+ maps and accompanying stories received served as windows into what individuals...
Advanced Bread Baking at Home
Homemade bread is having its moment in the spotlight, and people everywhere have spent the last year stocking up on flour, yeast and starter so they can get their hands dirty making delicious loaves from the comfort of their own kitchen. But for those bakers for whom the basics have become boring,...
Inconspicuous Consumption
*First Place Winner of the Society of Environmental Journalists' Rachel Carson Environment Book Award*With urgency and wit, Tatiana Schlossberg explains that far from being only a distant problem of the natural world created by the fossil fuel industry, climate change is all around us, all the...
Cozy White Cottage Seasons
Whether you want to create a cozy winter wonderland in your living room, a blooming summertime welcome on your deck, or an autumn refuge by your fireplace, Liz Marie Galvan's Cozy White Cottage Seasons gives you the inspiring photos, DIY ideas, and fun recipes you need to feel at home on any budget...
Game Theory
Brian Clegg was always fascinated by Isaac Asimov's classic Foundation series of books, in which the future is predicted using sophisticated mathematical modelling of human psychology and behaviour.Only much later did he realise that Asimov's 'psychohistory' had a real-world equivalent: game...
Samurai Weapons and Fighting Techniques
The Samurai warrior is one of the most famous types of soldier, with his intricate armour, longbow and distinctive katana sword, as well as his strict martial code. But samurai warfare and military culture is much misunderstood in the modern era. In Samurai Weapons & Fighting Techniques, Thomas D....
The Curse of Bigness
'Timely and important.' -- Joseph E. Stiglitz'Tim Wu helps shape an urgent new global conversation.' -- Shoshana ZuboffWe're three decades into a global experiment: what happens when the major nations of the world weaken their control on the size and power of corporate giants and allow unrestricted...
Colonialism and Neocolonialism
Nearly forty years after its first publication in French, this collection of Sartre's writings on colonialism remains a supremely powerful, and relevant, polemical work. Over a series of thirteen essays Sartre brings the full force of his remarkable intellect relentlessly to bear on his own...
As Cooked on TikTok
'This cookbook is full of some of TikTok's biggest trends, displaying innovative cooking and fun dishes to make at home' - Gordon and Tilly RamsayFeaturing both viral and brand-new recipes from many of the community's most beloved TikTok food creators, find tried-and-tested #simplerecipes for the...
The Billionaire and The Monk
What if you learn that everything you have been taught about happiness is false? What if you realize that happiness is not a goal and therefore it cannot be achieved? What if you discover that it is the ordinary path that leads to extraordinary treasure?This is a story about how two men from...