1984
1984 has come and gone, but George Orwell's prophetic, nightmare vision in 1949 of the world we were becoming is timelier than ever. "1984" is still the great modern classic "negative Utopia" - a startling original and haunting novel that creates an imaginary world that is completely convincing...
The Queen's Gambit
A modern classic about a troubled chess prodigy and her battle to survive --- a coming of age story of feminism, chess and addiction.Now a major Netflix series starring Anya Taylor-Joy from Academy-Award nominee Scott Frank and BAFTA nominee Allan Scott.'Superb' Time Out'Mesmerizing'...
The House of Hades
The House of Hades is the fourth book in the bestselling Heroes of Olympus series, set in the action-packed world of Percy Jackson. The stakes have never been higher. If Percy Jackson and Annabeth fail in their quest, there'll be hell on Earth. Literally. Wandering the deadly realm of Tartarus,...
Call Me By Your Name
Now a major motion picture from the makers of A Bigger Splash.During a restless summer on the Italian Riviera, a powerful romance blooms between seventeen-year-old Elio and his father's house guest, Oliver. Unrelenting currents of obsession and fear, fascination and desire threaten to overwhelm the...
The Dark Prophecy
The Trials of Apollo Book 2The god Apollo, cast down to earth and trapped in the form of a gawky teenage boy as punishment, must set off on the second of his harrowing (and hilarious) trials.He and his companions seek the ancient oracles - restoring them is the only way for Apollo to reclaim his...
A Good Girl's Guide to Murder
The New York Times No.1 bestselling YA crime thriller that everyone is talking about! THE WINNER OF THE BRITISH BOOK AWARDS' CHILDREN'S BOOK OF THE YEAR 2020 SHORTLISTED FOR THE WATERSTONES CHILDREN'S BOOK PRIZE 2020 'A fiendishly-plotted mystery that kept me guessing until the very end.' - Laura...
The Shining
Danny is only five years old, but he is a 'shiner', aglow with psychic voltage. When his father becomes caretaker of an old hotel, his visions grow out of control. Cut off by blizzards, the hotel seems to develop an evil force, and who are the mysterious guests in the supposedly empty hotel?
The Silmarillion
A new B-format edition of this novel, designed to take fans of The Hobbit and The Lord of the Rings deeper into the myths and legends of Middle-earth
Crooked Kingdom
Welcome to the world of the Grisha.Kaz Brekker and his crew of deadly outcasts have just pulled off a heist so daring even they didn't think they'd survive. But instead of divvying up a fat reward, they're right back to fighting for their lives.Double-crossed and badly weakened, the crew is low on...
The Waves
Through a series of connected monologues, The Waves tells the story of six very different friends - Bernard, Louis, Neville, Jinny, Susan and Rhoda - as they progress from childhood to middle age. Interspersed with evocative descriptions of the seaside at different times of day, the poignant...
On Earth We're Briefly Gorgeous
Brilliant, heartbreaking and highly original, Ocean Vuong's debut novel is a shattering portrait of a family, and a testament to the redemptive power of storytelling.'A marvel' MARLON JAMESThis is a letter from a son to a mother who cannot read. Written when the speaker, Little Dog, is in his late...
Ulysses
COMPLETE AND UNABRIDGED. With a new Introduction by Cedric Watts, Research Professor of English, University of Sussex. James Joyces astonishing masterpiece, Ulysses, tells of the diverse events which befall Leopold Bloom and Stephen Dedalus in Dublin on 16 June 1904, during which Blooms voluptuous...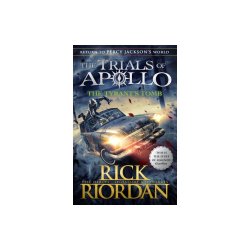 The Tyrant's Tomb
Things are getting very bad, very fast, for Apollo . . .The former God Apollo is having a pretty rough time of it. Well, for one thing, he's been turned into a human and banished from Olympus. And he's called Lester. But being an awkward mortal teenager is the least of his worries right now.Though...
Baptism of Fire
Geralt of Rivia is on a mission to save his ward, Ciri, and with her the world, in this third novel in the bestselling Witcher series that inspired the Netflix show and video games. The Wizards Guild has been shattered by a coup and, in the uproar, Geralt was seriously injured. The Witcher is...
The Lost Book of the White
From #1 New York Times and USA TODAY bestselling author Cassandra Clare and award-winning author Wesley Chu comes the second book in the Eldest Curses series, which continues the love story between Magnus Bane and Alec Lightwood. The Lost Book of the White is a Shadowhunters novel.Magnus Bane and...
The Trial
On his thirtieth birthday, the bank clerk Josef K. is suddenly arrested by mysterious agents for an unspecified crime. He is told that he will be set free, but must make regular appearances at a court in the attic of a tenement building while his trial proceeds. Although he never comes to know the...
Three Japanese Short Stories
'Oh the cruelty of time, that destroys all things!'Beguiling, strange and hair-raising tales from early 20th century Japan: Nagai's Behind the Prison, Uno's Closet LLB and Akutagawa's deeply macabre General Kim.Penguin Modern: fifty new books celebrating the pioneering spirit of the iconic Penguin...
Leonardo da Vinci
'In this painting of Leonardo's there was a smile so pleasing that it seemed divine rather than human.' Often called 'the first art historian', Vasari writes with delight on the lives of Leonardo and other celebrated Renaissance artists . Introducing Little Black Classics: 80 books for Penguin's...
Renegades
Secret identities. Extraordinary powers.She wants vengeance. He wants justice.The Renegades are a syndicate of prodigies―humans with extraordinary abilities – who emerged from the ruins of a crumbled society and established peace and order where chaos reigned. As champions of justice, they remain a...
The Tower of the Swallow
Geralt the Witcher races to find his missing ward, Ciri, in this fourth novel in the bestselling Witcher series that inspired the Netflix show and video games.The world has fallen into war. Ciri, the child of prophecy, has vanished. Hunted by friends and foes alike, she has taken on the guise of a...
The Fall of Gondolin
In the Tale of The Fall of Gondolin are two of the greatest powers in the world. There is Morgoth of the uttermost evil, unseen in this story but ruling over a vast military power from his fortress of Angband. Deeply opposed to Morgoth is Ulmo, second in might only to Manwe, chief of the...
P.S. I Still Love You
But suddenly they are together for real - and it's far more complicated than when they were pretending!A risque video of the two of them has been posted online. WillLara Jean ever live it down?Peter is spending more and more time with his ex. Has he stillgot feelings for her?A boy from Lara Jean's...
Gooseberries
'Oh, good God,' he kept saying with great relish. 'Good God...' 'Gooseberries' is accompanied here by 'The Kiss' and 'The Two Volodyas' - three exquisite depictions of love and loss in nineteenth-century Russia by Chekhov, the great master of the short story form. Introducing Little Black Classics:...
Killing Commendatore
When a thirty-something portrait painter is abandoned by his wife, he holes up in the mountain home of a famous artist. The days drift by, spent painting, listening to music and drinking whiskey in the evenings. But then he discovers a strange painting in the attic and unintentionally begins a...
Men Without Women: Stories
Across seven tales, Haruki Murakami brings his powers of observation to bear on the lives of men who, in their own ways, find themselves alone. Here are vanishing cats and smoky bars, lonely hearts and mysterious women, baseball and the Beatles, woven together to tell stories that speak to us all....
Burn Our Bodies Down
From the author of the New York Times bestseller Wilder Girls comes a new twisty thriller about a girl whose past has always been a mystery--until she decides to return to her mother's hometown . . . where history has a tendency to repeat itself. Ever since Margot was born, it's been just her and...
Yes No Maybe So
Jamie Goldberg is cool with volunteering for his local state candidate - as long as he's behind the scenes. There's no way he'd ever knock on doors to ask people for their votes…until he meets Maya.Maya Rehman's having the worst Ramadan ever. Her best friend is too busy to hang out, her summer trip...
The Supernova Era
Eight years ago and eight light years away, a supermassive star died.Tonight, a supernova tsunami of high energy will finally reach Earth. Dark skies will shine bright as a new star blooms in the heavens and within a year everyone over the age of thirteen will be dead, their chromosomes...
Lore
For centuries, Zeus has punished the gods with a game called the Agon, which turns them mortal for one week, and at the mercy of being hunted by those with godly ambitions. Only a handful of the original Greek gods remain, the rest replaced by the mortals who killed them and ascended.After her...
The Invisible Life of Addie LaRue
In the vein of The Time Traveler's Wife and Life After Life, The Invisible Life of Addie LaRue is New York Times bestselling author V. E. Schwab's genre-defying tour de force.A Life No One Will Remember. A Story You Will Never Forget.France, 1714: in a moment of desperation, a young woman makes a...
Fable
*A REESE WITHERSPOON X HELLO SUNSHINE BOOK CLUB YA PICK OCTOBER 2020*The brand-new thrilling novel from New York Times best-selling author of Sky in the Deep Adrienne Young, the first book in the fantastic Fable duology.Welcome to a world made dangerous by the sea and by those who wish to profit...
Bridgerton (TV Tie-in)
From New York Times bestselling author Julia Quinn comes the first novel in the beloved Regency-set world of her charming, powerful Bridgerton family, now a series created by Shonda Rhimes for Netflix.In the ballrooms and drawing rooms of Regency London, rules abound. From their earliest days,...
Take Me With You When You Go
Ezra Ahern wakes up one day to find his older sister, Bea, gone. No note, no sign, nothing but an email address hidden somewhere only he would find it. Ezra never expected to be left behind with their abusive stepfather and their neglectful mother - how is he supposed to navigate life without...
Instructions for Dancing
#1 New York Times bestselling author of Everything, Everything and The Sun is Also a Star Nicola Yoon is back with a new and utterly unique romance.'An endearing, affecting portrayal of the journey of love. Everything Yoon touches turns to gold... this cinematic supernatural romance will be no...
It Ends With Us
SOMETIMES THE ONE WHO LOVES YOU IS THE ONE WHO HURTS YOU THE MOST.Lily hasn't always had it easy, but that's never stopped her from working hard for the life she wants. She's come a long way from the small town in Maine where she grew up – she graduated from college, moved to Boston, and started...
No Longer Human
Portraying himself as a failure, the protagonist of Osamu Dazai's No Longer Human narrates a seemingly normal life even while he feels himself incapable of understanding human beings. Oba Yozo's attempts to reconcile himself to the world around him begin in early childhood, continue through high...
The Spanish Love Deception
A wedding in Spain. The most infuriating man. Three days to convince your family you're actually in love. . .Catalina Martin desperately needs a date to her sister's wedding. Especially when her little white lie about her American boyfriend has spiralled out of control. Now everyone she knows –...
The Seven Husbands of Evelyn Hugo
THE TIKTOK SENSATION'Riveting, heart-wrenching and full of Old Hollywood glamour' BuzzFeed'This wildly addictive journey of a reclusive Hollywood starlet and her tumultuous Tinseltown journey comes with unexpected twists and the most satisfying of drama' PopSugarFrom the author of Daisy Jones & The...
The Love Hypothesis
'Contemporary romance's unicorn: the elusive marriage of deeply brainy and delightfully escapist.' Christina Lauren, New York Times bestselling author of The UnhoneymoonersWhen a fake relationship between scientists meets the irresistible force of attraction, it throws one woman's carefully...
The Cruel Prince
'Holly Black spins a thrilling tale of intrigue and magic in her newest novel... Unmissable for fans of Sarah J. Mass and the Grisha trilogy' - Buzzfeed UK Of course I want to be like them. They're beautiful as blades forged in some divine fire. They will live forever . . . And Cardan is even more...
If We Were Villains
Oliver Marks has just served ten years for the murder of one of his closest friends - a murder he may or may not have committed. On the day he's released, he's greeted by the detective who put him in prison. Detective Colborne is retiring, but before he does, he wants to know what really happened...
A Little Life
The million copy bestseller, A Little Life by Hanya Yanagihara, is an immensely powerful and heartbreaking novel of brotherly love and the limits of human endurance.When four graduates from a small Massachusetts college move to New York to make their way, they're broke, adrift, and buoyed only by...
Normal People
Connell and Marianne grow up in the same small town in the west of Ireland, but the similarities end there. In school, Connell is popular and well-liked, while Marianne is a loner. But when the two strike up a conversation - awkward but electrifying - something life-changing begins.Normal People is...
These Violent Delights - Volume 1
'A deliciously dark twist on Romeo and Juliet' Natasha Ngan, New York Times bestselling author of Girls of Paper and FireIn glittering Shanghai, a monster awakens . . .The year is 1926, and Shanghai hums to the tune of debauchery. A blood feud between two gangs runs the streets red, leaving the...
The Wicked King
Jude has tricked Cardan onto the throne, binding him to her for a year and a day. But the new High King does everything in his power to humiliate and undermine her, even as his fascination with her remains undimmed. Meanwhile, a traitor in the court is scheming against her. Jude must fight for her...
Ugly Love
When Tate Collins finds airline pilot Miles Archer passed out in front of her apartment door, it is definitely not love at first sight. They wouldn't even go so far as to consider themselves friends. But what they do have is an undeniable mutual attraction.He doesn't want love and she doesn't have...
The Setting Sun
The post-war period in Japan was one of immense social change as Japanese society adjusted to the shock of defeat and to the occupation of Japan by American forces and their allies. Osamu Dazai's The Setting Sun takes this milieu as its background to tell the story of the decline of a minor...
November 9
Fallon meets Ben, an aspiring novelist, the day before her scheduled cross-country move. Their untimely attraction leads them to spend Fallon's last day in L.A. together, and her eventful life becomes the creative inspiration Ben has always sought for his novel. Over time and amidst the various...
Essentially Charli
Charli D'Amelio is the only TikTok personality to have surpassed 100 million followers.But who's the girl behind the posts? For the first time ever, Charli is ready to share the intimate details of her life: how she navigated challenges and stayed positive in the face of cyberbullying, who she was...
Midnight Library
THE NUMBER ONE SUNDAY TIMES BESTSELLERAN INSTANT NEW YORK TIMES BESTSELLERWINNER OF THE GOODREADS CHOICE AWARD FOR FICTIONA BETWEEN THE COVERS AND GOOD MORNING AMERICA BOOK CLUB PICK'BEAUTIFUL' Jodi Picoult, 'UPLIFTING' i, 'BRILLIANT' Daily Mail, 'AMAZING' Joanna Cannon, 'ABSORBING' New York Times,...
Empire of the Vampire - Volume 1
Twenty-seven years have passed since the last sunrise, and for almost three decades, the creatures of the night have walked the day without fear. Once, humanity fought bravely against the coldblood legions, but now, we exist only in a few scattered settlements—tiny sparks of light in a growing sea...
Little Women
The charming story of the March sisters, Little Women has been adored by generations, beautifully illustrated by Ella Bailey. The four March sisters - Meg, Jo, Amy and Beth - live in financial hardship in New England with their mother, while their father has been drafted to fight in the Civil War....
Kingdom of the Wicked
Fara descriere
Girl in Pieces
A Barnes & Noble Best Young Adult Books of 2016 | A New York Public Library Best Books for Teens in 2016| An Amazon Best YA Books of 2016Charlie Davis is in pieces. At seventeen, she's already lost more than most people lose in a lifetime. But she's learned how to forget it through cutting; the...
Six of Crows
Game of Thrones meets Ocean's Eleven in this brand new fantasy epic from the No.1 New York Times bestselling author of the Grisha trilogy. Gripping, sweeping and memorable, Six of Crows is perfect for fans of George R. R. Martin, Laini Taylor and Kristin Cashore.Criminal prodigy Kaz Brekker is...
We Were Liars
We are the Liars. We are beautiful, privileged and live a life of carefree luxury. We are cracked and broken. A story of love and romance. A tale of tragedy. Which are lies? Which is truth?
Aristotle and Dante Dive Into the Waters of the World
The highly anticipated sequel to the beloved cult classic about family, friendship and first love, from award-winning author Benjamin Alire Saenz. This lyrical novel will enrapture readers of Love, Simon, John Green and Call me by your Name.A love story like no other.In Aristotle and Dante Discover...
The Song of Achilles
A beautiful new limited edition paperback of The Song of Achilles, published as part of the Bloomsbury Modern Classics listThe god touches his finger to the arrow's fletching. Then he breathes, a puff of air - as if to send dandelions flying, to push toy boats over water. And the arrow flies,...
Only Dull People Are Brilliant at Breakfast
'It would be unfair to expect other people to be as remarkable as oneself'Wilde's celebrated witticisms on the dangers of sincerity, duplicitous biographers, the stupidity of the English - and his own genius.One of 46 new books in the bestselling Little Black Classics series, to celebrate the first...
Here's to us
In this follow-up to their charming New York Times bestseller, What If It's Us, best friends Becky Albertalli (Simon vs. The Homo Sapiens Agenda) and Adam Silvera (They Both Die At The End) reunite to give Arthur and Ben another shot at true love. From the creator of 13 Reasons Why, What If It's Us...
Tales of Horror
A murderer is forced to reveal his crime by the sound of a beating heart, a mysterious figure wreaks havoc among a party of noblemen during the time of the plague, a grieving lover awakens to find himself clutching a box of his beloved blood-stained teeth, a man is obsessed with the fear of being...
Malibu Rising
Malibu: August 1983. It's the day of Nina Riva's annual end-of-summer party, and anticipation is at a fever pitch. Everyone wants to be around the famous Rivas: Nina, the talented surfer and supermodel; brothers Jay and Hud, one a championship surfer, the other a renowned photographer; and their...
Iron Widow
Pacific Rim meets The Handmaid's Tale in this blend of Chinese history and mecha science fiction for YA readers.The boys of Huaxia dream of pairing up with girls to pilot Chrysalises, giant transforming robots that can battle the mecha aliens that lurk beyond the Great Wall. It doesn't matter that...
Unravel Me
X-Men meets The Handmaid's Tale in the second instalment in an epic and romantic YA fantasy trilogy perfect for fans of Sarah J. Maas, Victoria Aveyard's The Red Queen, Netflix's Stranger Things and Leigh Bardugo's Six of Crows.They want to find me. I will find them first.Juliette has escaped. She...
Dune Messiah
Dune Messiah continues the story of Paul Atreides, better known--and feared--as the man christened Muad'Dib. As Emperor of the known universe, he possesses more power than a single man was ever meant to wield. Worshipped as a religious icon by the fanatical Fremen, Paul faces the enmity of the...
The Tell-Tale Heart
'Presently I heard a slight groan, and I knew it was a groan of mortal terror ... the low stifled sound that arises from the bottom of the soul.' Stories about murder, mystery and madness, portraying the author's feverish imagination at its creative height. Introducing Little Black Classics: 80...
Heartless
Long before she was the Queen of Hearts, Catherine Pinkerton was just a girl who wanted to fall in love.Catherine may be one of the most desired girls in Wonderland, and a favorite of the unmarried King of Hearts, but her interests lie elsewhere. A talented baker, all she wants is to open a shop...
The Inheritance Games
She came from nothing.Avery has a plan: keep her head down, work hard for a better future.Then an eccentric billionaire dies, leaving her almost his entire fortune. And no one, least of all Avery, knows why.They had everything.Now she must move into the mansion she's inherited.It's filled with...
Hopeless
From the #1 New York Times bestselling author of It Ends With Us comes the beginning of Sky and Dean's passionate love story - where well-kept secrets threaten to open wounds of a dark past.Would you rather know a truth that makes you feel hopeless, or keep believing the lies?Beloved and...
The Song of Achilles
Greece in the age of heroes. Patroclus, an awkward young prince, has been exiled to the court of King Peleus and his perfect son Achilles. Despite their differences, Achilles befriends the shamed prince, and as they grow into young men skilled in the arts of war and medicine, their bond blossoms...
The Hawthorne Legacy
Intrigue, riches, and romance abound in this thrilling sequel to the New York Times bestselling The Inheritance Games perfect for fans of Karen McManus and Holly Jackson.The Inheritance Games ended with a bombshell, and now heiress Avery Grambs has to pick up the pieces and find the man who might...
One of Us Is Next
Welcome back to Bayview High . . .It's been a year since the events of One Of Us Is Lying.But nothing has settled for the residents of Bayview. Not now someone has started playing a sinister game of Truth or Dare.Choose truth? You must reveal your darkest secret.Choose dare? Well, that could be...
Red Queen
The Reds are commoners, ruled by a Silver elite in possession of god-like superpowers. And to Mare Barrow, a seventeen-year-old Red girl from the poverty-stricken Stilts, it seems like nothing will ever change. That is, until she finds herself working in the Silver Palace. Here, surrounded by the...
Anxious People
Fara descriere
Shadow and Bone
Soldier. Summoner. Saint. Orphaned and expendable, Alina Starkov is a soldier who knows she may not survive her first trek across the Shadow Fold-a swath of unnatural darkness crawling with monsters. But when her regiment is attacked, Alina unleashes dormant magic not even she knew she...
Emma
Emma is considered by many readers to be Jane Austen's crowning achievement, a timeless comedy of manners that lays bare the limits on women's autonomy in Regency England. The disparity between Emma Woodhouse's self-confidence and self-knowledge, and her determination to arrange marriages for her...
All of Us Villians - Volume 1
Every generation, at the coming of the Blood Moon, seven families in the remote city of Ilvernath each name a champion to compete in a secret tournament to the death.But this year a salacious tell-all book has exposed the tournament and thrust the seven new champions into the worldwide spotlight....
Once Upon A Broken Heart
The instant #1 New York Times bestseller! Once Upon a Broken Heart marks the launch of a new series from beloved author Stephanie Garber about love, curses, and the lengths that people will go to for happily ever after For as long as she can remember, Evangeline Fox has believed in true love and...
If This Gets Out
"If This Gets Out is an absolute showstopper! Equal parts edgy and adorable, this bright, joyful book has everything I look for in a queer YA romance." - Phil Stamper, bestselling author of The Gravity of UsOne of the world's biggest boy bands. A secret love. What happens if the world finds out? A...
Restore Me
The book that all SHATTER ME fans have been waiting for is finally here. The fourth incredible instalment of Tahereh Mafi's New York Times bestselling YA fantasy series perfect for fans of Sarah J. Maas, Victoria Aveyard's The Red Queen, Stranger Things and Leigh Bardugo's Six of CrowsThe girl with...
Tales of Mystery and Imagination
HarperCollins is proud to present its new range of best-loved, essential classics. 'Yet I am not more sure that my soul lives, than I am that perverseness is one of the primitive impulses of the human heart -- one of the indivisible primary faculties, or sentiments, which gives direction to the...
All the Light We Cannot See
A beautiful, stunningly ambitious novel about a blind French girl and a German boy whose paths collide in occupied France as both try to survive the devastation of World War II Open your eyes and see what you can with them before they close forever.' For Marie-Laure, blind since the age of six, the...
All Your Perfects
The #1 New York Times bestselling author of It Ends with Us-whose writing is "emotionally wrenching and utterly original" (Sara Shepard, New York Times bestselling author of the Pretty Little Liars series)-delivers a tour de force novel about a troubled marriage and the one old forgotten promise...
All the Bright Places
The Fault in Our Stars meets Eleanor and Park, All the Bright Places is a compelling and beautiful story about a girl who learns to live from a boy who intends to die. Theodore Finch is fascinated by death, and he constantly thinks of ways he might kill himself. But each time, something good, no...
Serpent & Dove
An Amazon Best Book of 2019 * New York Times Bestseller * B&N's YA Book Club Pick * Indiebound Bestseller * #6 on the 2019 Kids' Indie Next List"A brilliant debut, full of everything I love: a sparkling and fully realized heroine, an intricate and deadly system of magic, and a searing romance that...
Just Haven't Met You Yet
The stunning new love story from the bestselling author of This Time Next YearTell me the story of how you two met...Laura has built a career out of interviewing people about their epic real life love stories.When she picks up the wrong suitcase at the airport, Laura wonders if this could be the...
You & Me on Vacation
'A gorgeous romance' BETH O'LEARY, The Flatshare'Our generation's answer to Nora Ephron' SOPHIE COUSENS, This Time Next Year'So warm and funny' PAIGE TOON, The Minute I Saw You'A pitch-perfect balance of loveable characters, hilarious wit and steamy sexual chemistry' LAURA JANE WILLIAMS, Our...
Crime and Punishment
Crime and Punishment is one of the greatest and most readable novels ever written. From the beginning we are locked into the frenzied consciousness of Raskolnikov who, against his better instincts, is inexorably drawn to commit a brutal double murder. From that moment on, we share his conflicting...
The Perks of Being a Wallflower
Shy, introspective, intelligent beyond his years, caught between trying to live his life and trying to run from it, Charlie is attempting to navigate through the uncharted territory of high school. The world of first dates and mixed tapes, family dramas and new friends. The world of sex, drugs, and...
The Night Circus
The circus arrives without warning. No announcements precede it. It is simply there, when yesterday it was not. The black sign, painted in white letters that hangs upon the gates, reads: Opens at Nightfall Closes at Dawn.
1984 Nineteen-Eighty Four
Ravaged by years of war and civil conflict, Britain has changed its name to Airstrip One and become part of Oceania one of the three totalitarian blocks dominating the world ruled by a mysterious leader called Big Brother who keeps the population in thrall through strict surveillance and brutal...
Confess
From bestselling author Colleen Hoover, comes a new novel about risking everything for love - and finding your heart somewhere between the truth and lies. Auburn Reed has her entire life mapped out. Her goals are in sight and there's no room for mistakes. But when she walks into a Dallas art studio...
We hunt the flame
People lived because she killed. People died because he lived.Zafira is the Hunter, disguising herself as a man when she braves the cursed forest of the Arz to feed her people. Nasir is the Prince of Death, assassinating those foolish enough to defy his autocratic father, the sultan. If Zafira was...
The Eye of the World - The Wheel of Time, Book 1
Prepare to turn the Wheel of Time - discover the first novel in one of the most influential and popular fantasy epics ever published.When their village is attacked by terrifying creatures, Rand al'Thor and his friends are forced to flee for their lives. An ancient evil is stirring, and its servants...
Maybe Someday
Brilliant and entertaining' Jamie McGuire, bestselling author of Beautiful DisasterFrom the bestselling author of It Ends With Us, a passionate tale of music, love and betrayal…Sydney is living in an idyllic bubble - she lives with her best friend, has a great boyfriend, and the music coming from...
The Hating Game
Lucy Hutton, baker-of-cakes, exemplary assistant and professional 'nice girl', is waging war. She's got the whole office on her side - except for tall, dark and charmless Joshua Templeman. He's been nothing but hostile since the moment they met and now it feels like nothing matters as much as...
King of Scars
Nikolai Lantsov has always had a gift for the impossible. No one knows what he endured in his country's bloody civil war - and he intends to keep it that way. Now, as enemies gather at his weakened borders, the young king must find a way to refill Ravka's coffers, forge new alliances, and stop a...
Priory of the Orange Tree
'Epic' Guardian'Majestic' Daily Mail'Escapism at its finest - Shannon, we salute you' StylistAn enthralling, epic fantasy about a world on the brink of war with dragons - and the women who must lead the fight to save it.The House of Berethnet has ruled Inys for a thousand years. Still unwed, Queen...
Dracula
HarperCollins is proud to present its new range of best-loved, essential classics. 'We are in Transylvania; and Transylvania is not England. Our ways are not your ways, and there shall be to you many strange things.' Earnest and naive solicitor Jonathan Harker travels to Transylvania to organise...
Loveless
Loveless is Alice Oseman's fourth novel and is a story of identity and self-acceptance, as protaganist Georgia and her friends discover true love isn't limited to romance. Georgia has never been in love, never kissed anyone, never even had a crush –but as a fanfic-obsessed romantic she's sure...
Ruin and Rising
Soldier. Summoner. Saint.The nation's fate rests with a broken Sun Summoner, a disgraced tracker, and the shattered remnants of a once-great magical army.The Darkling rules from his shadow throne while a weakened Alina Starkov recovers from their battle under the dubious protection of the zealots...
Siege and Storm
Soldier. Summoner. Saint. Alina Starkov's power has grown, but not without a price. She is the Sun Summoner - hunted across the True Sea, haunted by the lives she took on the Shadow Fold. But she and Mal can't outrun their enemies for long.The Darkling is more determined than ever to claim Alina's...
Unite Me
Perfect for fans of Tahereh Mafi's New York Times bestselling Shatter Me trilogy, this book collects the first two companion novellas, Fracture Me and Destroy Me, for a thrilling insight into the minds of Juliette's two great loves - Adam and Warner.Destroy MeThe mind-blowing events between Shatter...
The Poppy War
`The best fantasy debut of 2018' WIREDA brilliantly imaginative epic fantasy debut, inspired by the bloody history of China's twentieth century and filled with treachery and magic.When Rin aced the Keju - the test to find the most talented students in the Empire - it was a shock to everyone: to the...
Adventures of Sherlock Holmes
From his Baker Street apartment, Sherlock Holmes wields his powers of deduction in pursuit of justice and truth, venturing out into foggy Victorian London accompanied by his faithful sidekick Dr Watson. This classic collection of Holmes tales includes many of the detective's most-loved exploits:...
Ninth House
Galaxy "Alex" Stern is the most unlikely member of Yale's freshman class. Raised in the Los Angeles hinterlands by a hippie mom, Alex dropped out of school early and into a world of shady drug-dealer boyfriends, dead-end jobs, and much, much worse. In fact, by age twenty, she is the sole survivor...
Vicious
Victor and Eli, due to a research project gone wrong, become ExtraOrdinaries with supernatural powers. Ten years later Victor escapes from prison, determined to get his revenge on the man who put him there, while Eli has spent the years hunting down and killing other EOs.
Kingdom of the Cursed
The Sunday Times bestseller.One sister. Two sinful princes. Infinite deception with a side of revenge . . . Welcome to Hell.From the #1 New York Times bestselling author Kerri Maniscalco comes the sizzling and sweepingly romantic sequel to Kingdom of the Wicked.With the enigmatic Prince of Wrath at...
Beach Read
He doesn't believe in happy endings.She's lost her faith that they exist.But could they find one together?January is a hopeless romantic who narrates her life like she's the lead in a blockbuster movie.Gus is a serious literary type who thinks true love is a fairy-tale.But January and Gus have more...
To Paradise
In an alternate version of 1893 America, New York is part of the Free States, where people may live and love whomever they please (or so it seems). The fragile young scion of a distinguished family resists betrothal to a worthy suitor, drawn to a charming music teacher of no means. In a 1993...
Wuthering Heights
Part of Alma Classics Evergreen series The tale of Heathcliff and Cathy's ungovernable love and suffering, and the havoc that their passion wreaks on the families of the Earnshaws and the Lintons, shocked the book's first readers, with even Emily's sister Charlotte wondering 'whether it is right or...
The Book Thief
1939. Nazi Germany. The country is holding its breath. Death has never been busier.Liesel, a nine-year-old girl, is living with a foster family on Himmel Street. Her parents have been taken away to a concentration camp. Liesel steals books. This is her story and the story of the inhabitants of her...
Desire
You've just passed someone on the street who could be the love of your life, the person you're destined for – what do you do? In Murakami's world, you tell them a story. The five weird and wonderful tales collected here each unlock the many-tongued language of desire, whether it takes the form of...
Cloud Cuckoo Land
Thirteen-year-old Anna, an orphan, lives inside the formidable walls of Constantinople in a house of women who make their living embroidering the robes of priests. Restless, insatiably curious, Anna learns to read, and in this ancient city, famous for its libraries, she finds a book, the story of...
The House in the Cerulean Sea
Linus Baker leads a quiet life. At forty, he has a tiny house with a devious cat and his beloved records for company. And at the Department in Charge of Magical Youth, he's spent many dull years monitoring their orphanages.Then one day, Linus is summoned by Extremely Upper Management and given a...
The Raven and Other Selected Poems
HarperCollins is proud to present its incredible range of best-loved, essential classics.' "…Take thy beak from out my heart, and take thy form from off my door!"Quoth the Raven, "Nevermore." 'This selection of Edgar Allan Poe's poetical works includes some of his best-known pieces, including the...
Blood of Elves
The Witcher, Geralt of Rivia, holds the fate of the world in his hands in the New York Times bestselling first novel in the Witcher series that inspired the Netflix show and video games.For more than a hundred years, humans, dwarves, gnomes and elves lived together in relative peace. But times have...
The Picture of Dorian Gray
′How sad it is! I shall grow old, and horrid, and dreadful. But this picture will remain always young ... If it was only the other way!′Wilde′s first and only published novel recounts the story of handsome Dorian Gray who upon having his portrait painted desires that it will age and grow ugly while...
The Life of a Stupid Man
'What is the life of a human being - a drop of dew, a flash of lightning? This is so sad, so sad.' Autobiographical stories from one of Japan's masters of modernist story-telling. Introducing Little Black Classics: 80 books for Penguin's 80th birthday. Little Black Classics celebrate the huge range...
Gods & Monsters
Evil always seeks a foothold. We must not give it one.The electrifying conclusion to the New York Times and Indiebound bestselling Serpent Dove trilogy is perfect for fans of Sarah J. Maas and Kendare Blake.Lou has spent her whole life running.Now, after a crushing blow from Morgane, the time has...
Caraval
Welcome to Caraval, where nothing is quite as it seems. A mesmerising, magical and stunningly imaginative debut novel for anyone who loved The Night Circus and Daughter of Smoke and Bone.
Bell Jar
A student from Boston wins a guest editorship on a national magazine, and finds a new world at her feet. Her New York life is crowded with possibilities, so the choice of future is overwhelming. She is faced with the perennial problems of morality, behaviour and identity.
A Sky Beyond the Storm
Prepare for the jaw-dropping finale of Sabaa Tahir's beloved New York Times bestselling An Ember in the Ashes fantasy series, and discover: Who will survive the storm?Picking up just a few months after A Reaper at the Gates left off...The long-imprisoned jinn are on the attack, wreaking bloody...
Little Women
HarperCollins is proud to present its new range of best-loved, essential classics. 'Wouldn't it be fun if all the castles in the air which we make could come true and we could live in them?' A heart-warming tale of love, sisterhood and hardship during the New England Civil War, Little Women tells...
The Picture of Dorian Gray
This Wordsworth Edition includes an exclusive Introduction and Notes by John M.L. Drew, University of Buckingham.Wilde's only novel, first published in 1890, is a brilliantly designed puzzle, intended to tease conventional minds with its exploration of the myriad interrelationships between art,...
My Dark Vanessa
LONGLISTED FOR THE DYLAN THOMAS PRIZE'A package of dynamite' Stephen King'Powerful, compulsive, brilliant' Marian KeyesAn era-defining novel about the relationship between a fifteen-year-old girl and her teacherALL HE DID WAS FALL IN LOVE WITH ME AND THE WORLD TURNED HIM INTO A MONSTERVanessa Wye...
Legendborn
After her mother dies in an accident, sixteen-year-old Bree Matthews wants nothing to do with her family memories or childhood home. A residential programme for bright high-schoolers at UNC – Chapel Hill seems like the perfect escape – until Bree witnesses a magical attack her very first night on...
Pet Sematary
Soon to be a major motion picture from Paramount Pictures starring John Lithgow, Jason Clarke, and Amy Seimetz! Stephen King's #1 New York Times bestseller Pet Sematary, a "wild, powerful, disturbing" (The Washington Post Book World) classic about evil that exists far beyond the grave - among...
Losing Hope
From the bestselling author of It Ends With UsSOMETIMES IN LIFE, IN ORDER TO MOVE FORWARD YOU MUST FACE THE PAST...In Hopeless, Sky left no secret unearthed, no feeling unshared and no memory forgotten, but Holder's past remains a mystery.He is haunted by the little girl he let walk away from him...
The Burning God
The exciting end to The Poppy War trilogy, R.F. Kuang's acclaimed, award-winning epic fantasy that combines the history of 20th-century China with a gripping world of gods and monsters, to devastating, enthralling effect.After saving her nation of Nikan from foreign invaders and battling the evil...
Classic Victorian & Edwardian Ghost Stories
This is a book to be read by a blazing fire on a winter's night, with the curtains drawn close and the doors securely locked. The unquiet souls of the dead, both as fictional creations and as 'real' apparitions, roam the pages of this haunting selection of ghost stories by Rex Collings.Some of...
Nostalgia
'Cartarescu is one of the great literary voices of Central Europe' Olga Tokarczuk, Nobel Prize winner and author of Flights'Creator of a universe that's caught between dream and reality, Cartarescu is a revelation' El PaisA dreamlike novel of memory and magic, Nostalgia turns the dark world of...
How Much Land Does A Man Need?
'Although he feared death, he could not stop. 'If I stopped now, after coming all this way - well, they'd call me an idiot!' A pair of short stories about greed, charity, life and death from one of Russia's most influential writers and thinkers. Introducing Little Black Classics: 80 books for...
The Goldfinch
Winner of the Pulitzer Prize for Fiction 2014Aged thirteen, Theo Decker, son of a devoted mother and a reckless, largely absent father, survives an accident that otherwise tears his life apart. Alone and rudderless in New York, he is taken in by the family of a wealthy friend. He is tormented by an...
La fin de la jalousie
Profondement epris de la belle Francoise , Honore de Tenvres s'emeut sans cesse de cet incroyable amour. Jusqu'au jour ou on lui dit qu'elle a la reputation d'etre une femme facile. Bouleverse, il decouvre brutalement les tourments de la jalousie... Mondains, voluptueux et cruels, les personnages...
Imago
From literary pioneer Octavia E. Butler, the acclaimed Lilith's Brood trilogy concludes with the story of Jodah, child of the Earth and stars, who risks the future of humanity just by growing up.Jodahs is a child of the Earth and stars, born from the union between humans and the Oankali, who saved...
House of Sky and Breath
Sequel to the #1 New York Times bestseller. Sarah J. Maas's sexy, groundbreaking CRESCENT CITY series continues with this second installment.Bryce Quinlan and Hunt Athalar have made a pact. As they process the events of the Spring they will keep things … platonic … until the Solstice. But can they...
House of Sky and Breath
Sequel to the #1 New York Times bestseller. Sarah J. Maas's sexy, groundbreaking CRESCENT CITY series continues with this second installment.Bryce Quinlan and Hunt Athalar have made a pact. As they process the events of the Spring they will keep things … platonic … until the Solstice. But can they...
Beach Read
"Original, sparkling bright, and layered with feeling."--Sally Thorne, author of The Hating GameA romance writer who no longer believes in love and a literary writer stuck in a rut engage in a summer-long challenge that may just upend everything they believe about happily ever afters.Augustus...
One True Loves
Named a Best Book of Summer by Cosmopolitan * InStyle *PopSugar * Buzzfeed * Bustle * Brit+Co * Parade"No one does life and love better." InStyle"Earth-shaking…you will flip for this epic love story." CosmopolitanIn her twenties, Emma Blair marries her high school sweetheart, Jesse. They build a...
Klara and the Sun
*The #1 Sunday Times Bestseller**Longlisted for the Booker Prize 2021**A Barack Obama Summer Reading Pick*'This is a novel for fans of Never Let Me Go . . . tender, touching and true.' The Times'The Sun always has ways to reach us.'From her place in the store, Klara, an Artificial Friend with...
Madam
'The simmering menace and mystery kept me absolutely gripped' - Jennifer Saint, author of Ariadne'A highly entertaining and atmospheric read' - Kate Sawyer, Costa Book Awards nominated author of The Stranding'Rebecca meets The Secret History. Gloriously dark, gloriously gothic' Sara Collins, Costa...
Open Water
WINNER OF THE COSTA FIRST NOVEL AWARD 2021SHORTLISTED FOR THE SUNDAY TIMES YOUNG WRITER OF THE YEAR AWARD'A tender and touching love story, beautifully told' Observer 10 Best Debut Novelists of 2021'Hands-down the best debut I've read in years' The Times'A beautiful and powerful novel about the...
Redder Days
Twins Anna and Adam live in an abandoned commune in a volatile landscape where they prepare for the world-ending event they believe is imminent. Adam keeps watch by day, Anna by night. They meet at dawn and dusk.Dazzling, unsettling and incredibly moving, Redder Days is a stunning exploration of...
I Must Betray You
A #1 New York Times and National Bestseller!A gut-wrenching, startling historical thriller about communist Romania and the citizen spy network that devastated a nation, from the #1 New York Times bestselling, award-winning author of Salt to the Sea and Between Shades of Gray.Romania, 1989....
The Fine Print
RowanI'm in the business of creating fairy tales.Theme parks. Production companies. Five-star hotels.Everything could be all mine if I renovated Dreamland.My initial idea of hiring Zahra was good in theory, but then I kissed her.Things spiraled out of control once I texted her using an alias.By the...
Gallant
A darkly magical and thrilling tale of a young woman caught between the world and its shadows, who must embrace her legacy to stop the approaching darkness.A fantasy novel from the Sunday Times-bestselling author of The Invisible Life of Addie LaRue, and A Darker Shade of Magic. The Secret Garden...
The Unhoneymooners
The honeymoon of a lifetime . . . with her sworn enemyOlive is always unlucky; her identical twin sister Ami, on the other hand, is probably the luckiest person in the world. While she's about to marry her dream man, Olive is forced to play nice with her nemesis: the best man, Ethan.Yet Olive's...
Without Merit
'Not every mistake deserves a consequence. Sometimes the only thing it deserves is forgiveness.'The Voss family is anything but normal. They live in a repurposed church, newly baptized Dollar Voss. The once cancer-stricken mother lives in the basement, the father is married to the mother's former...
Five Nights at Freddy's - Fazbear Frights #4: Step Closer
Five Nights at Freddy's fans won't want to miss this pulse-pounding collection of three novella-length tales that will keep even the bravest FNAF player up at night...
Fahrenheit 451
The hauntingly prophetic classic novel set in a not-too-distant future where books are burned by a special task force of firemen. Guy Montag is a fireman. His job is to burn books, which are forbidden, being the source of all discord and unhappiness. Even so, Montag is unhappy; there is discord in...
A Court of Mist and Fury
Feyre survived Amarantha's clutches to return to the Spring Court – but at a steep cost. Though she now possesses the powers of the High Fae, her heart remains human, and it can't forget the terrible deeds she performed to save Tamlin's people.Nor has Feyre forgotten her bargain with Rhysand, the...
Selected Stories
HarperCollins is proud to present its incredible range of best-loved, essential classics.
Frankenstein
Part of Alma Classics Evergreens series at 4.99, this new edition of Frankenstein contains pictures and an extensive section on Shelley's life and works. Since it was first published in 1818, Mary Shelley's seminal novel has generated countless print, stage and screen adaptations, but none has ever...
House of Earth and Blood
WINNER OF THE GOODREADS CHOICE BEST FANTASY 2020Think Game of Thrones meets Buffy the Vampire Slayer with a drizzle of E.L. James - TelegraphPerfect for fans of Jessica Jones and True Blood, this is a blockbuster modern fantasy set in a divided world where one woman must uncover the truth to seek...
Before the Coffee Gets Cold
In a small back alley in Tokyo, there is a cafe which has been serving carefully brewed coffee for more than one hundred years. But this coffee shop offers its customers a unique experience: the chance to travel back in time.In Before the Coffee Gets Cold, we meet four visitors, each of whom is...
Circe
The captivating Sunday Times and New York Times number one bestseller by the Orange Prize-winning author of The Song of Achilles; `spellbinding ... a thrilling tour de force of the imagination' (Mail on Sunday) `Fabulous' Daily Telegraph `Blisteringly modern' The Times `Bold and sensuously written'...
Love is for Losers
A laugh out loud look at first love, loss and trying to avoid the girl of your dreams.What a stupid expression that is in the first place: To fall in love.Like you fall into a ditch or something.Maybe people need to look where they're going.As far as Phoebe Davis is concerned, love is to be avoided...
To Paradise
#1 NEW YORK TIMES BEST SELLER • From the author of the classic A Little Life—a bold, brilliant novel spanning three centuries and three different versions of the American experiment, about lovers, family, loss and the elusive promise of utopia.In an alternate version of 1893 America, New York is...
Daughter of the Moon Goddess
A captivating debut fantasy inspired by the legend of the Chinese moon goddess.A young woman's quest to free her mother pits her against the most powerful immortal in the realm, setting her on a dangerous path where those she loves are not the only ones at risk...Growing up on the moon, Xingyin is...
Conversations with Friends
Frances is twenty-one years old, cool-headed and observant. A student in Dublin and an aspiring writer, at night she performs spoken word with her best friend Bobbi, who used to be her girlfriend. When they are interviewed and then befriended by Melissa, a well-known journalist who is married to...
The Idiot
Part of Alma Classics Evergreen series at 4.99. Populated by an unforgettable cast of characters, from the beautiful, self-destructive Nastasya Filippovna to the dangerously obsessed Rogozhin and the radical student Ippolit, The Idiot is one of Dostoevsky's most personal and intense works of...
Afterlove
THE LESBIAN LOVE STORY YOU'VE BEEN DYING TO READ. Ash Persaud is about to become a reaper in the afterlife, but she is determined to see her first love Poppy Morgan again - the only thing that separates them is death.
The Tangleroot Palace
From New York Times bestseller Marjorie Liu comes six dark, lush, and spellbinding short stories and one novella, full of unexpected detours, dangerous magic, and even more dangerous women .New York Times bestseller and Hugo, British Fantasy, Romantic Times, and Eisner award-winning author of the...
Terms and Conditions
DeclanI'm destined to become the next CEO of my family's media empire.The only problem? My grandfather's inheritance clause.Fulfilling his dying wish of getting married and having an heir seemed impossible until my assistant volunteered for the job.Our marriage was supposed to be the perfect...
The Fervor
Chilling supernatural horror combining Japanese folklore with WW2 historical fiction from a multiple award-winning author. 1944: As World War II rages on, the threat has come to the home front. In a remote corner of Idaho, Meiko Briggs and her daughter, Aiko, are desperate to return home. Following...
Book of Night
#1 New York Times bestselling author Holly Black makes her stunning adult debut with Book of Night, a modern dark fantasy of shadowy thieves and secret societies in the vein of Ninth House and The Night CircusIn Charlie Hall's world, shadows can be altered, for entertainment and cosmetic...
The Blacktongue Thief
Set in a world of goblin wars, stag-sized battle ravens, and assassins who kill with deadly tattoos, Christopher Buehlman's The Blacktongue Thief begins a 'dazzling' (Robin Hobb) fantasy adventure unlike any other.Kinch Na Shannack owes the Takers Guild a small fortune for his education as a thief,...
Elektra
An exciting and equally lyrical new retelling from Jennifer Saint, the Sunday Times bestselling author of ARIADNE'Saint's immersive novel thrusts the reader straight into the heart of Greek mythology' ipaper on AriadneThe House of Atreus is cursed. A bloodline tainted by a generational cycle of...
Book Lovers
'Her best yet' TAYLOR JENKINS REID, Malibu Rising'One of my favourite authors'COLLEEN HOOVER, It Ends With Us'So smart, so funny, so sexy' BETH O'LEARY, The RoadtripOne summer. Two rivals. A plot twist they didn't see coming...------------------------------------------------------------Nora is a...
Delilah Green Doesn't Care
A clever and steamy queer romantic comedy about taking chances and accepting love - with all its complications. Perfect for fans of Alexandria Bellefleur, Casey McQuiston and Rosie Danan.
Portrait of a Thief
Named A Most Anticipated Book of 2022 by *Marie Claire* *Washington Post* *Vulture* *NBC News* *Buzzfeed* *Veranda* *PopSugar* *Paste* *The Millions* *Bustle* *Crimereads* Goodreads* *Bookbub* *Boston.com* and more!"The thefts are engaging and surprising, and the narrative brims with international...
Year on Fire
What secrets will people keep—or reveal—to protect those they love? This novel, set against the frightening backdrop of an encroaching fire season, sparks reflection about friendship, the allure of romantic love, and loyalty to family.Can a single kiss change everything?It was a year on fire. They...
Love from Scratch
Rival interns with sizzling chemistry in and out of the kitchen? That's a recipe for love. "Sweet and satisfying!"—Jenna Evans Welch, New York Times bestselling author of Love & GelatoThis summer, Reese Camden is trading sweet tea and Southern hospitality for cold brew and crisp coastal air. She's...
In a Garden Burning Gold
"Fresh and original . . . full of lush writing and detailed worldbuilding . . . [with a] rich fantasy landscape and an almost Shakespearean feel."—PasteTwins imbued with incredible magic and near-immortality will do anything to keep their family in power—even if it tears the family apart—in the...
Mercury Rising
Even in a technologically-advanced, Kennedy-Didn't-Die alternate-history, Brooklyn Lamontagne is going nowhere fast. The year is 1975, thirty years after Robert Oppenheimer invented the Oppenheimer Atomic Engine, twenty-five years after the first human walked on the moon, and eighteen years after...
The Drowning Summer
A gorgeously atmospheric contemporary fantasy of two Long Island teens and fledgling mediums investigating a murder in their small town by the New York Times bestselling author of The Devouring Gray.Mina Zanetti is a fledgling medium, desperate to share in her mother's world and speak with the...
Nettle & Bone
A dark and compelling fantasy about sisterhood, impossible tasks and the price of power, from award-winning author T. KingfisherAfter years of seeing her sisters suffer at the hands of an abusive prince, Marra―the shy, convent-raised, third-born daughter―has finally realized that no one is coming...
The Atlas Six
When the world's best magicians are offered an extraordinary opportunity, saying yes is easy. Each could join the secretive Alexandrian Society, whose custodians guard lost knowledge from ancient civilizations. Their members enjoy a lifetime of power and prestige. Yet each decade, only six...
Forging Silver into Stars
Rediscover the worlds of Emberfall and Syhl Shallow in this irresistible return to Brigid Kemmerer's New York Times bestselling Cursebreaker series.Tycho of Rillisk has been a lot of things: son and brother, stablehand, prisoner, soldier and friend to the king. Now, four years after Grey took the...
Words of Radiance - Volume 2 - Part Two
Fara descriere
Words of Radiance - Volume 2 - Part One
Expected by his enemies to die the miserable death of a military slave, Kaladin survived to be given command of the royal bodyguards, a controversial first for a low-status "darkeyes." Now he must protect the king and Dalinar from every common peril as well as the distinctly uncommon threat of the...
Family of Liars
The thrilling prequel to the TikTok phenomenon and #1 New York Times bestseller We Were Liars takes readers back to the story of another summer, another generation, and the secrets that will haunt them for decades to come.A windswept private island off the coast of Massachusetts.A hungry ocean,...
First Person Singular
A mindbending new collection of short stories from the unique, internationally acclaimed author of Norwegian Wood and The Wind-up Bird Chronicle.THE SUNDAY TIMES BESTSELLERThe eight masterly stories in this new collection are all told in the first person by a classic Murakami narrator. From...
Unstoppable - Dreams Bigger Than Heartbreak
The thrilling intergalactic adventures of the Unstoppable series continue in the sequel to Victories Greater Than Death, from the international-bestselling author of All the Birds in the Sky.They'll do anything to be the people they were meant to be - even journey into the heart of evil.Rachael...
Get a Life, Chloe Brown
A witty, hilarious romance about a woman who's tired of being "boring" and recruits her mysterious, sexy neighbor to help her experience new things--perfect for fans of Sally Thorne, Jasmine Guillory, and Helen Hoang!Chloe Brown is a chronically ill computer geek with a goal, a plan, and a list....
Gallant
Everything casts a shadow. Even the world we live in. And as with every shadow, there is a place where it must touch. A seam, where the shadow meets its source.#1 New York Times–bestselling author V. E. Schwab weaves a dark and original tale about the place where the world meets its shadow, and the...
All Your Perfects
INSTANT NEW YORK TIMES BESTSELLERThe #1 New York Times bestselling author of It Ends with Us-whose writing is "emotionally wrenching and utterly original" (Sara Shepard, New York Times bestselling author of the Pretty Little Liars series)-delivers a tour de force novel about a troubled marriage and...
She Gets the Girl
Read THE new swoon-worthy hate-to-love rom com from #1 New York Times bestselling co-author of Five Feet Apart Rachael Lippincott and debut writer Alyson Derrick. The perfect summer read for fans of Adam Silvera, Casey McQuiston, Alice Oseman and Becky Albertalli!Alex and Molly are two girls who...
Radio Silence
The second novel by the phenomenally talented author of Solitaire, Alice Oseman – the most talked-about YA writer right now.What if everything you set yourself up to be was wrong?Frances has always been a study machine with one goal, elite university. Nothing will stand in her way; not friends, not...
Solitaire
In case you're wondering, this is not a love story."The Catcher in the Rye for the digital age" The TimesMy name is Tori Spring. I like to sleep and I like to blog. Last year – before all that stuff with Charlie and before I had to face the harsh realities of A-Levels and university applications...
I Was Born for This
The third novel from the phenomenally talented Alice Oseman – one of the most talked about YA writers in recent years.For Angel Rahimi life is about one thing: The Ark – a pop-rock trio of teenage boys who are taking the world by storm. Being part of The Ark's fandom has given her everything she...
The Cheat Sheet
Is it ever too late to leave the friend zone? Friends-to-lovers TikTok sensation, The Cheat Sheet, is the rom-com that has readers laughing and rooting for these lovable best friends from the first page!'A laugh-out-loud romantic comedy' SOPHIE SULLIVAN'As slapstick funny as it is both sizzling and...
A Magic Steeped in Poison
A #1 New York Times Bestseller!A 2022 PEOPLE Magazine Best Book of Summer!Judy I. Lin's sweeping debut A Magic Steeped in Poison, first in a duology, is sure to enchant fans of Adrienne Young and Leigh Bardugo.I used to look at my hands with pride. Now all I can think is, These are the hands that...
The Cousins
The Storys are the envy of their neighbours: owners of the largest property on their East Coast island, they are rich, beautiful, and close. Until it all falls apart. The four children are suddenly dropped by their mother with a single sentence:You know what you did.They never hear from her...
Ace of Spades
Gossip Girl meets Get Out in Ace of Spades, a YA contemporary thriller by debut author Faridah Abike-Iyimide about two students, Devon & Chiamaka, and their struggles against an anonymous bully.All you need to know is . . . I'm here to divide and conquer. Like all great tyrants do. —AcesWhen two...
Anxious People
In a small town in Sweden it appears to be an ordinary day. But look more closely, and you'll see a mysterious masked figure approaching a bank...Two hours later, chaos has descended. A bungled attempted robbery has developed into a hostage situation - and the offender is refusing to communicate...
The Last Hours: Chain of Gold
First print edition contains special content, including bonus art and a new short story!From #1 New York Times bestselling author Cassandra Clare comes the first novel in a brand new trilogy where evil hides in plain sight and love cuts deeper than any blade. Chain of Gold is a Shadowhunters...
Midnight Library
Between life and death there is a library.When Nora Seed finds herself in the Midnight Library, she has a chance to make things right. Up until now, her life has been full of misery and regret. She feels she has let everyone down, including herself. But things are about to change.The books in the...
House of Earth and Blood
Perfect for fans of Jessica Jones and True Blood, this is a blockbuster modern fantasy set in a divided world where one woman must uncover the truth to seek her revenge.Half-Fae, half-human Bryce Quinlan loves her life. Every night is a party and Bryce is going to savour all the pleasures Lunathion...
Midnight Sun
When Edward Cullen and Bella Swan met in Twilight, an iconic love story was born. But until now, fans have heard only Bella's side of the story. At last, readers can experience Edward's version in the long-awaited companion novel, Midnight Sun.This unforgettable tale as told through Edward's eyes...
Girl, Woman, Other
***WINNER OF THE BOOKER PRIZE 2019***SUNDAY TIMES BESTSELLERThis is Britain as you've never read it.This is Britain as it has never been told.From Newcastle to Cornwall, from the birth of the twentieth century to the teens of the twenty-first, Girl, Woman, Other follows a cast of twelve characters...
Pride and Prejudice
Spirited Elizabeth Bennet is one of a family of five daughters, and with no male heir, the Bennet estate must someday pass to their priggish cousin William Collins. Therefore, the girls must marry well--and thus is launched the story of Elizabeth and the arrogant bachelor Mr. Darcy, in a novel...
A Deadly Education
NEW YORK TIMES BESTSELLER • From the author of Uprooted and Spinning Silver comes the story of an unwilling dark sorceress who is destined to rewrite the rules of magic."The dark school of magic I've been waiting for." Katherine Arden, author of Winternight TrilogyI decided that Orion Lake needed...
Little Women
'Rich or poor, we will keep together and be happy in one another.' Christmas won't be the same this year for Meg, Jo, Beth and Amy, as their father is away fighting in the Civil War, and the family has fallen on hard times. But though they may be poor, life for the four March sisters is rich with...
A Cup of Sake Beneath the Cherry Trees
'It is a most wonderful comfort to sit alone beneath a lamp, book spread before you, and commune with someone from the past whom you have never met...' Moonlight, sake, spring blossom, idle moments, a woman's hair - these exquisite reflections on life's fleeting pleasures by a thirteenth-century...
Harry Potter Coloring Kit
This Harry Potter Coloring Kit is sure to cast a spell over muggles and wizards alike. The kit includes 30 illustrated cards with detailed designs of your favourite characters to complete, 10 coloured pencils, and 3 distinct magnetic frames to display your art.
Little women
In nineteenth-century New England, in the shadow of the Civil War, the four teenaged March sisters will come of age sharing joys and hardships, dreams and disappointments. In the throes of unfamiliar poverty and adult responsibility the girls, with their wildly different personalities, find it's...
Aurora Burning
Shocking revelations, bank heists, mysterious gifts, inappropriately tight bodysuits, and an epic firefight will determine the fate of the Aurora Legion's most unforgettable heroes--and maybe the rest of the galaxy as well.
Obsidio
Kady, Ezra, Hanna, and Nik narrowly escaped with their lives from the attacks on Heimdall station and now find themselves crammed with 2,000 refugees on the container ship, Mao. With the jump station destroyed and their resources scarce, the only option is to return to Kerenza--but who knows what...
Fire and Blood
300 years before A Game of Thrones, an even greater game began, one that set the skies alight with dragon flame and saw the Seven Kingdoms turned to ash.So began the Targaryens' bloody rule, with fire and blood. Setting brother against brother, mother against daughter, and dragon against...
Death
When it comes to death, is there ever a best case scenario? In this disarmingly witty book, Julian Barnes confronts our unending obsession with the end. He reflects on what it means to miss God, whether death can be good for our careers and why we eventually turn into our parents. Barnes is the...
The Great Gatsby
Invited to an extravagantly lavish party in a Long Island mansion, Nick Carraway, a young bachelor who has just settled in the neighbouring cottage, is intrigued by the mysterious host, Jay Gatsby, a flamboyant but reserved self-made man with murky business interests and a shadowy past. As the two...
The Life and Opinions of Tristram Shandy, Gentleman
Introduces us to a group of memorable characters, variously eccentric, farcical and endearing. This book involves the reader in the labyrinthine creation of a purported autobiography. It anticipates modernism and postmodernism.
The Nickel Boys
In this bravura follow-up to the Pulitzer Prize and National Book Award-winning #1 New York Times bestseller The Underground Railroad, Colson Whitehead brilliantly dramatizes another strand of American history through the story of two boys sentenced to a hellish reform school in Jim Crow-era...
Conference of the Birds
The brand-new book in the #1 bestselling Miss Peregrine's Peculiar Children series!With his dying words, H--Jacob Portman's final connection to his grandfather Abe's secret life entrusts Jacob with a mission: Deliver newly con-tacted peculiar Noor Pradesh to an operative known only as V. Noor is...
Breathless
From Jennifer Niven, the New York Times bestselling author of All the Bright Places, comes an unforgettable new novel about a sensitive girl ready to live her bravest life--sex, heartbreak, family dramas, and all.Before: With graduation on the horizon, budding writer Claudine Henry is making plans:...
Country of Red Azaleas
A riveting novel about two women--one Serbian, one Bosnian--whose deep friendship spans decades and continents, war and peace, love and estrangement, in the vein of Elena Ferrante and Julia Alvarez. From the moment Marija walks into Lara's classroom, freshly moved to Serbia from Sarajevo, Lara is...
The Stolen White Elephant
'PALE TERROR GOES BEFORE HIM, DEATH AND DEVASTATION FOLLOW!'From the father of American literature, four sparkling comic tales of extraordinary animals and parables subverted.One of 46 new books in the bestselling Little Black Classics series, to celebrate the first ever Penguin Classic in 1946....
Heureux qui, comme mon aspirateur...
La Roumanie, pays latin situe au sud-est de l'Europe, a connu dans les annees 80 la periode la plus tragique de son histoire : le regime totalitaire de Nicolae Ceausescu. Arrive au pouvoir en 1965, il domine cruellement son peuple en l'affamant, jusqu'a sa chute, il y a 30 ans, en decembre 1989....
A Deadly Education
The Sunday Times bestselling novel from the award-winning author of UPROOTEDIn the start of an all-new series, the bestselling author of Uprooted and Spinning Silver introduces you to a dangerous school for the magically gifted where failure means certain death - until one girl begins to rewrite...
American Dirt
Lydia Perez owns a bookshop in Acapulco, Mexico, and is married to a fearless journalist. Luca, their eight-year-old son, completes the picture. But it only takes a bullet to rip them apart.In a city in the grip of a drug cartel, friends become enemies overnight, and Lydia has no choice but to flee...
Good Girl, Bad Blood
This is the sequel to thriller A Good Girl's Guide to Murder, which was shortlisted for the YA Book Prize in 2019. Pip Fitz-Amobi is not a detective anymore. With the help of Ravi Singh, she released a true-crime podcast about the murder case they solved together last year. The podcast has gone...
One of Us Is Lying
Yale hopeful Bronwyn has never publicly broken a rule.Sports star Cooper only knows what he's doing in the baseball diamond.Bad body Nate is one misstep away from a life of crime.Prom queen Addy is holding together the cracks in her perfect life.And outsider Simon, creator of the notorious gossip...
They Both Die at the End
From the bestselling author of HISTORY IS ALL YOU LEFT ME comes another unforgettable story of life, loss and making each day countOn September 5th, a little after midnight, Death-Cast calls Mateo Torrez and Rufus Emeterio to give them some bad news: they're going to die today. Mateo and Rufus are...
As Good As Dead - Volume 3
Pip is used to online death threats, but there's one that catches her eye, someone who keeps asking: who will look for you when you're the one who disappears? And it's not just online. Pip has a stalker who knows where she lives. The police refuse to act and then Pip finds connections between her...
Aristotle and Dante Discover the Secrets of the Universe
The beloved cult classic about family, friendship and first love, from award-winning author Benjamin Alire Saenz. This lyrical novel will enrapture readers of Adam Silvera (They Both Die at the End), The Perks of Being a Wallflower and Call me by your Name.Aristotle is an angry teen with a brother...
The Picture of Dorian Gray
Includes pictures, notes and an extensive section on Oscar Wilde's life and works. Dorian Gray is having his picture painted by Basil Hallward, who is charmed by his looks. But when Sir Henry Wotton visits, and seduces Dorian into the worship of youthful beauty with an intoxicating speech, Dorian...
Defy Me
She was never meant for you.She was never meant for any of this.That girl was sentenced to death the moment I named her Juliette.Juliette Ferrars isn't who she thinks she is.Nothing in her world is what it seemed. She thought she'd defeated The Reestablishment. She thought she'd finally taken...
Daisy Jones and The Six
They were the new icons of rock and roll, fated to burn bright and not fade away – until it all came crashing down...There was Daisy, rock and roll force of nature, brilliant songwriter and unapologetic drug addict, the half-feral child who rose to superstardom.There was Camila, the frontman's...
Imagine Me
Juliette Ferrars. Ella Sommers. Which is the truth and which is the lie?Now that Ella knows who Juliette is and what she was created for, things have only become more complicated. As she struggles to understand the past that haunts her and looks to a future more uncertain than ever, the lines...
Six of Crows
A glorious Collector's Edition of New York Times bestselling, epic fantasy novel, SIX OF CROWS. Beautifully designed, with an exclusive letter from the author and six stunning full-colour character portraits. This covetable hardback with red sprayed edges is a perfect gift for fans, and a perfect...
Dune
Before The Matrix, before Star Wars, before Ender's Game and Neuromancer, there was Dune: winner of the prestigious Hugo and Nebula awards, and widely considered one of the greatest science fiction novels ever written.Melange, or 'spice', is the most valuable - and rarest - element in the universe;...
The Love Hypothesis
As a third-year Ph.D. candidate, Olive Smith doesn't believe in lasting romantic relationships--but her best friend does, and that's what got her into this situation. Convincing Anh that Olive is dating and well on her way to a happily ever after was always going to take more than hand-wavy Jedi...
A Modern Detective
He is fond of enigmas, of conundrums, hieroglyphics; exhibiting in his solutions of each a degree of acumen which appears to the ordinary apprehension praeternatural.
My Year of Rest and Relaxation
'When I'd slept enough, I'd be okay. I'd be renewed, reborn.'This is the story of a woman with no name. Young, thin, pretty, a recent Columbia graduate, she lives in an apartment on the Upper East Side of Manhattan paid for, like everything else, by her inheritance. Yet she longs to lose herself...
Come Close
'Yes, we did many things, then - all Beautiful ...' Lyrical, powerful poems about love, sexuality, sun-soaked Greece and the gods. Introducing Little Black Classics: 80 books for Penguin's 80th birthday. Little Black Classics celebrate the huge range and diversity of Penguin Classics, with books...
The Virgin Suicides
Introducing the Collins Modern Classics, a series featuring some of the most significant books of recent times, books that shed light on the human experience – classics which will endure for generations to come.That girl didn't want to die. She just wanted out of that house. She wanted out of that...
Children of Dune
The Children of Dune are twin siblings Leto and Ghanima Atreides, whose father, the Emperor Paul Muad'Dib, disappeared in the desert wastelands of Arrakis nine years ago. Like their father, the twins possess supernormal abilities--making them valuable to their manipulative aunt Alia, who rules the...
Animal Farm
All animals are equal, but some animals are more equal than others.George Orwell's fable of revolutionary farm animals - the steadfast horses Boxer and Clover, the opportunistic pigs Snowball and Napoleon, and the deafening choir of sheep - who overthrow their elitist human master only to find...
Anna Karenina
Anna Karenina is one of the most loved and memorable heroines of literature. Her overwhelming charm dominates a novel of unparalleled richness and density. Tolstoy considered this book to be his first real attempt at a novel form, and it addresses the very nature of society at all levels,- of...
Project Hail Mary
A lone astronaut must save the earth from disaster in this incredible new science-based thriller from the #1 New York Times bestselling author of The Martian.Ryland Grace is the sole survivor on a desperate, last-chance mission and if he fails, humanity and the earth itself will perish.Except that...
Jane Eyre
Includes pictures and an extensive section on Charlotte Bronte's life and works. A novel of high romance and great intensity, Jane Eyre has enjoyed popular success and critical acclaim ever since its publication in 1847. Jane's journey from a troubled childhood to independence - and her turbulent...
Dune
In 1965, after being rejected by more than a dozen publishing houses, a book called "Dune" was brought out by the Chilton Book Company. Its respected author, journalist Frank Herbert, had written "Dune" with nothing more in mind than to entertain his readers with the telling of a particularly...
Ariadne
A mesmerising retelling of the ancient Greek myth of Theseus and the Minotaur. Perfect for fans of CIRCE, A SONG OF ACHILLES, and THE SILENCE OF THE GIRLS.As Princesses of Crete and daughters of the fearsome King Minos, Ariadne and her sister Phaedra grow up hearing the hoofbeats and bellows of the...
Mrs Dalloway
Part of Alma Classics Evergreen series, this edition contains a wealth of material. As Mrs Dalloway works on the preparations for a dinner party, her thoughts throughout the day wander from memories of the past to interrogations about the present and lead her to assess the choices she has made in...
The Silmarillion
Limited to a worldwide first printing of just 4,000 copies, this deluxe edition is printed in two colours and is fully bound in cloth and stamped in gold foil. Housed in a matching custom-built slipcase decorated with stunning wraparound artwork, it also features two full-colour removable posters...
The Bluest Eye
Pecola Breedlove longs for blond hair and blue eyes, so that she will be as beautiful and beloved as all the blond, blue-eyed children in America. In the autumn of 1941, the marigolds in her garden will not bloom, and her wish will not come true. Pecola's life is about to change in other painful...
Recitatif
Twyla and Roberta have known each other since they were eight years old, when they were thrown together as roommates in a girls' shelter. Inseparable then, they lose touch as they grow older, only to meet again later at a diner, a grocery store and then at a protest. The two women are seemingly at...
Only a Monster
The sweeping romance of Passenger meets the dark fantasy edge of This Savage Song in this stunning contemporary fantasy debut from Vanessa Len, where the line between monster and hero is razor thin.Don't forget the rule. No one can know what you are. What we are. You must never tell anyone about...
The Promise
On a farm outside Pretoria, the Swarts are gathering for Ma's funeral. The younger generation, Anton and Amor, detest everything the family stand for - not least their treatment of the Black woman who has worked for them her whole life. Salome was to be given her own house, her own land...yet...
The Galaxy, and the Ground Within
National Bestseller!Return to the sprawling, Hugo Award-winning universe of the Galactic Commons to explore another corner of the cosmos—one often mentioned, but not yet explored—in this absorbing entry in the Wayfarers series, which blends heart-warming characters and imaginative adventure.With no...
You'll Be the Death of Me
From the international bestselling author of One of Us Is Lying comes a brand-new addictive thriller.Ivy, Mateo and Cal used to be close - best friends back in middle school.Now all they have in common is a bad day. So for old time's sake they skip school together - one last time.But when the trio...
The Beautifull Cassandra
'She has many rare and charming qualities, but Sobriety is not one of them.' A selection of Austen's dark and hilarious early writings - featuring murder, drunkenness, perjury, theft, poisoning, women breaking out of prison, men forging wills and babies biting off their mothers' fingers......
Cinder
The first book in the #1 New York Times- and USA Today-Bestselling Lunar Chronicles series by Marissa Meyer like you've never seen it before, now with new cover art! See where the futuristic YA fairytale saga all began, with the tale of a teenage cyborg who must fight for Earth's survival against...
My Policeman
It is in 1950s' Brighton that Marion first catches sight of Tom. He teaches her to swim in the shadow of the pier and Marion is smitten - determined her love will be enough for them both.A few years later in Brighton Museum Patrick meets Tom. Patrick is besotted with Tom and opens his eyes to a...
Dead Souls
This Wordsworth Edition includes an exclusive Introduction by Anthony Briggs. Russia in the 1840s. There is a stranger in town, and he is behaving oddly. The unctuous Pavel Chichikov goes around the local estates buying up 'dead souls'. These are the papers relating to serfs who have died since the...
Ashes falling for the sky
- Esperais-tu plus qu'un jeu, Sky ? - Certainement pas. On ne tombe pas amoureuse d'un inconnu. Pour sa premiere rentree universitaire, Sky compte bien se delester de son costume de petite fille sage. Elle jette son devolu sur Ash, attirant mais insupportable bad boy. Prete a assumer cette relation...
The Death of Francis Bacon
A bold and brilliant short work by the author of Grief is the Thing with Feathers and Lanny.Madrid.Unfinished.Man Dying.A great painter lies on his deathbed.Max Porter translates into seven extraordinary written pictures the explosive final workings of the artist's mind.
The Book of Form and Emptiness
LONGLISTED FOR THE WOMEN'S PRIZE FOR FICTIONWhen a book and a reader are meant for each other, both of them know it . . .After the tragic death of his father, fourteen-year-old Benny Oh begins to hear voices. The voices belong to the things in his house and sound variously pleasant, angry or sad....
The Good, the Bad and the Little Bit Stupid
A LAUGH-OUT-LOUD NOVEL FROM THE BESTSELLING AUTHOR OF A SHORT HISTORY OF TRACTORS IN UKRAINIANAfter walking out on his wife to shack up with 'Brexit Brenda' next door, George Pantis thinks he's got it made - especially when he wins millions on a Kosovan lottery he barely remembers...
The Missing Word
"Like Truman Capote's In Cold Blood, De Gregorio takes a true story and reveals what life cannot. Extraordinary."-GraziaIrina's life with her husband and her twin daughters is orderly. An Italian living in Switzerland, she works as a lawyer. One day, something breaks. The marriage ends without...
Remote Sympathy
ONGLISTED: WOMENS' PRIZE FOR FICTION 2022SHORTLISTED: THE DUBLIN LITERARY AWARDA NOVEL OF DEVASTATING BEAUTY SET IN BUCHENWALD DURING THE SECOND WORLD WAR"A powerful and disturbing study in terrible lies and the human need to believe them."ANNIE PROULXMoving away from their lovely apartment in...
The No-Show
The funny, heart-breaking and uplifting new novel from the author of The Flatshare*The instant Sunday Times Top 5 bestseller*'Ingenious, heartwarming and romantic' SOPHIE KINSELLA'Surprising and deeply satisfying' EMILY HENRY'The kind of book that leaves an impression on your heart' HOLLY...
Wild and Wicked Things
In the aftermath of the First World War, a young woman gets swept into a glittering world filled with illicit magic, romance, blood debts and murder in this lush and decadent debut novel.On Crow Island, people whispered, real magic lurked just below the surface. But Annie Mason never expected her...
The Key to Fury
Safety comes at a price. Change comes at a cost.The Key Corporation has kept Westfall safe from pandemics for the last fifty years. But that's not all they've done...After discovering the shocking truth behind the Key Corporation, Elodie and Aiden have managed to escape in search of New Dawn - the...
Catcher In The Rye
Tells the story of a seventeen-year-old dropout who has been kicked out of his fourth school. This novel dissects the 'phony' aspects of society, and the 'phonies' themselves: the headmaster whose affability depends on the wealth of the parents, his roommate who scores with girls using sickly-sweet...
Crier's War
After the War of Kinds ravaged the kingdom of Rabu, the Automae, designed to be the playthings of royals, usurped their owners' estates and bent the human race to their will.Now Ayla, a human servant rising in the ranks at the House of the Sovereign, dreams of avenging her family's death…by killing...
Animal Farm
HarperCollins is proud to present its incredible range of best-loved, essential classics.The animals at Manor Farm have had enough of Farmer Jones – he's drunk, he's reckless and he cares little for the welfare of his animals. When Old Major, the old boar, calls a meeting, the animals are...
Yerba Buena
A study of complex, modern love...Expertly illuminates the trauma that Sara and Emilie are both wrestling with, as well as their hope and healing...Lingers like a perfectly mixed cocktail." —